RBI extends loan moratorium by three more months to August 31
Posted on 22nd May 2020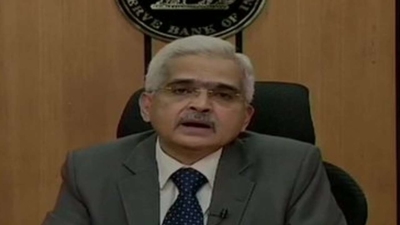 Reserve Bank of India (RBI) governor Shaktikanta Das announced on Friday extension of loan moratorium by three more months to August 31 due to the financial stress caused by the COVID-19 pandemic.

He made the statement at a press conference amidst expectations that he will announce measures to ease the financial burden caused by the pandemic.

"Three-month moratorium we allowed on term loans&working capitals we allowed certain relaxations. In view of the extension of the lockdown&continuing disruption on account of #COVID19, these measures are being further extended by another 3 months from June 1 to Aug 31," RBI governor said.

"Measures announced today can be divided into 4 categories: to improve the functioning of markets,to support exports&imports, to ease financial stress by giving relief on debt servicing&better access to working capital&to ease financial constraints faced by state govts," he added.

The Group Exposure Limit of banks is being increased from 25% to 30% of eligible capital base for enabling the corporates to meet their funding requirements from banks. The increased limit will be applicable up to 30th June 2021, Shaktikanta said.

"It has been decided to relax rules governing withdrawal from Consolidated Sinking Fund (CSF) while at the same time, ensuring depletion of the fund balance is done prudently. It will enable states to meet about 45% of redemption of their market borrowings which are due in 2020-21," he added.

He said that GDP growth in 2020-21 is expected to remain in the negative category with some pick up in the second half.

India's foreign exchange reserves have increased by 9.2 billion during 2020-21 from 1st April onwards. So far, up to 15th May, foreign exchange reserves stand at 487 billion US dollars, Das said.

However, amidst the uncertainty surrounding the pandemic, agriculture provided a beacon of hope with an increase of 3.7% in food grain production, RBI governor said.

He further reported that Industrial production shrank by close to 17% in March with manufacturing activity down by 21%. Output of core industries contracted by 6.5%.

"The repo rate cut by 40 basis points from 4.4 % to 4%. Reverse repo rate stands reduced to 3.35%," Shaktikanta said.
Gold prices slump to Rs 48,900 per 10 gm, Silver rallying at Rs 51,950 a kg
Posted on 11th July 2020
Gold prices on Saturday fell to Rs 48,900 from Rs 49,100 per 10 gram, while silver climbed to Rs 51,950 from Rs 51,900 per kilogram, according to Good Returns website.

Gold jewellery prices vary across India, the second-largest consumer of the metal, due to excise duty, state taxes, and making charges.
---
Facebook plans to ban political ads before US Presidential election: Report
Posted on 11th July 2020
Facing intense criticism from all quarters, Facebook is planning to ban political ads on its platform like Twitter does as the US inches closer towards the presidential election in November, the media reported on Saturday.

According to a report in CNN Business citing sources, the potential ban on political ads to reduce the spread of disinformation has been under consideration since last fall.
---
RIL closes four Jio stake sale deals, receives Rs 30,062 cr from investors
Posted on 11th July 2020
After Facebook Inc, Reliance Industries has closed deals to sell a minority stake in its digital arm to four other investors, receiving a total of over Rs 30,062 crore.

In a regulatory filing, Reliance said it has closed the sale of 6.13 per cent stake in Jio Platforms with L Catterton, The Public Investment Fund, Silver Lake and General Atlantic.
---
Kolkata: Eden Gardens to be used as COVID-19 quarantine facility for police personnel
Posted on 11th July 2020
Kolkata Police can now use the galleries of Eden Gardens stadium as a makeshift quarantine facility, the Cricket Association of Bengal (CAB) on Friday said.

A meeting at Kolkata Police Headquarter, Lal Bazaar, took place at the Chamber of Special Commissioner Jawed Shamim. It was attended by CAB president Avishek Dalmiya.
---
India sees 27,114 new coronavirus cases, tally crosses 8 lakh-mark
Posted on 11th July 2020
In another highest single-day spike of coronavirus cases, India on Saturday reported 27,114 new cases in the last 24 hours. As many as 519 deaths were reported during this period.

With this, the country's total count has crossed the eight lakh-mark.

The total number of positive cases in the country stands at 8,20,916, including 2,83,407 active cases, 5,15,386 cured/discharged/migrated and 22,123 deaths, according to the Ministry of Health and Family Welfare.
---
Be the first person to write a business review for RBI extends loan moratorium by three more months to August 31