Supply of petroleum products normal, avoid panic booking of LPG cylinders: Indian Oil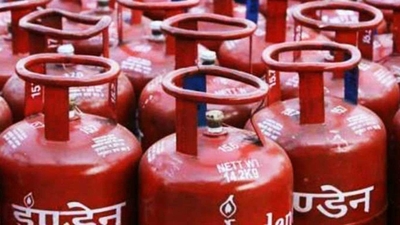 Amid coronavirus lockdown, the state-run oil marketing company Indian Oil has said it has enough supplies of LPG cylinders and appealed customers to avoid panic booking as 'one cylinder in 15 days' norm is in place.

IOCL delivers cooking gas cylinders to 11 crore households across the country.

In a statement on Sunday, Indian Oil Corp (IOC) chairman Sanjiv Singh said the supply of petroleum products, especially petrol, diesel and LPG, is absolutely normal.

"I want to assure all our customers that the supply of petroleum products, especially petrol, diesel and LPG, is absolutely normal. All our supply locations, including import terminals, refineries, depots and LPG bottling plants are functioning normally," he said.

"Indian Oil employees along with its channel partners, dealers, distributors, delivery boys, pump attendants, transporters are working around the clock to ensure that the supply of petroleum products is maintained throughout the country," Singh said.

"As far as LPG is concerned, kindly rest assured that everything is under control," he said, adding that the company has enough stock in the country and supply lines are functioning efficiently.

"There is absolutely no need for panic and kindly refrain from doing panic booking. We have introduced a system for refill booking only at a gap of 15 days from the last date of refill. So kindly abide by that," the IOCL chief said.

"All our touchpoints, especially dealers and distributors are provided with the necessary guidance to all our delivery boys and pump attendants to follow the necessary guidelines with respect to maintaining social distance. So kindly help in serving you better," he added.

He appealed people to follow the guidelines issued by the government and remain safe.

Indian Oil is one of the largest petroleum supplies company in India and delivers LPG cylinders to 11 crore households.

Hindustan Petroleum also asserted that it has no shortage of supplies.

"I want to assure the public that there is no shortage of petroleum products especially petrol, diesel & LPG. Refineries, bottling plants, import terminals, normal terminals and depots are functioning normally: Mukesh Kumar Surana, HPCL Chairman, said in a statement.

"Our staff are trying their best to make sure that essential commodities like petrol,diesel&LPG reach the public as per their requirement. I request everyone to not panic buy. There is no shortage of products," Surana added.

The supplies of cooking gas and other petroleum products have been put under essential supplies and services during the 21-day coronavirus lockdown.