Coronavirus Pandemic: Global death toll crosses 20,000; Italy-Spain account for more than half
Posted on 26th March 2020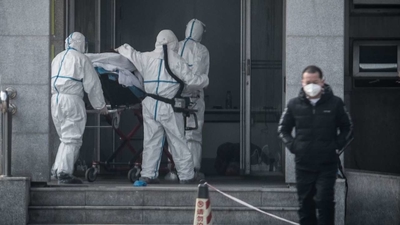 The global coronavirus death toll crossed 20,000-mark on Wednesday Italy recorded another 683 deaths within 24 hours, taking the number to 7503. The number of cases in the country reached 74,384 with 5,210 more cases being recorded on Wednesday.

Spain, the second most affected country in the European Union, surpassed China in terms of the number of deaths as added 443 dead to its yesterday's figure. Spain has recorded 3,434 deaths against China's figure of 3,281. The number of cases in Spain rose to 47,610 as it added 5,552 new patients to the growing list of coronavirus infected people.

The number of affected people worldwide crossed 4.5 lakh-mark, with the Johns Hopkins University's coronavirus database putting the figure at 451,355, adding over 45,000 cases in just one day.

The number of cases in the past two weeks has seen a dramatic jump. While it took 67 days from the detection of the first case to reach one lakh, most of them in China, it took 11 days to infect another one lakh people. The number of cases rose exponentially after that as it took only four days to reach from 2 to 3 lakh and three days to add another one lakh cases as it crossed 4-lakh mark on Tuesday.

The most dramatic rise in a number of cases has been in the United States where total confirmed cases reached 60,115 on Wednesday with 827 related deaths. The US added over 6,000 cases and 58 deaths in just 24 hours.

In terms of cases per million, China's is 56 while Italy has the total case per million population of 1230. China has registered 2 deaths/million while it is 124 in Italy.

The number of deaths in Iran crossed 2,000-mark. The Johns Hopkins University database put the number of deaths in Iran at 2,077 with the total number of confirmed cases at 27,017.

In India, the number of cases jumped to 606 with 10 deaths. The government on Tuesday imposed a nationwide complete lockdown from 21-days with only essential personnel allowed to come out of their homes.
---
Coronavirus Outbreak: In highest spike yet, India's COVID-19 tally crosses 1.90 lakh cases; 5,394 deaths
Posted on 1st June 2020
The total number of confirmed cases of COVID-19 infection in India crossed the 1.90 lakh-mark on Monday, while the death toll has topped the 5,300-mark as well. At 9:30 AM on this day, the COVID-19 tally in the country has reached 1,90,535 cases, which includes 93,322 active cases; 91,819 cured, discharged, or migrated patients, and 5,394 deaths.
---
Online classes 'First Bell' for Kerala school students begins today
Posted on 1st June 2020
The new academic year begins today in Kerala. The Kerala government will begin virtual classes for school students from today, in an effort to ensure that they do not miss out on lessons due to COVID-19 induced lockdown.

More than 45 lakh students will be part of this online initiative.
---
Power bill over Rs 100,000? Now it's must to file income-tax return
Posted on 1st June 2020
The government has notified new income-tax return forms for 2019-20, making it mandatory for high spenders to file ITR and allowing assesses to avail benefits of extended timelines in view of Covid-19.

People incurring large spending will not be able to escape paying taxes, with the government making filing mandatory in specific cases even in their income is below the taxable limit.
---
Wajid Khan, of music composer duo Sajid-Wajid dies at 42
Posted on 1st June 2020
Wajid Khan, of music composer duo Sajid-Wajid, died at the age of 42. The news was confirmed by singer Sonu Nigam, who posted a picture on Instagram and wrote, My brother Wajid left us.

Speaking about his health condition, music composer Salim Merchant told PTI, He had multiple issues. He had a kidney issue and had a transplant a while ago. But recently he got to know about kidney infection... He was on the ventilator for the last four days, after his situation started getting worse. Kidney infection was the beginning and then he got critical.
---
Be the first person to write a business review for Coronavirus Pandemic: Global death toll crosses 20,000; Italy-Spain account for more than half