Centre pays Rs 50,850 crore to farmers under PM-KISAN scheme
Posted on 22nd February 2020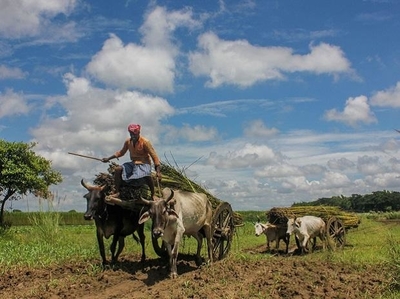 The Centre on Saturday said it has disbursed Rs 50,850 crore to farmers so far under its landmark scheme PM-KISAN, enabling them to meet farm input cost and household expenses.

The agriculture ministry shared the progress made under the scheme, ahead of its first anniversary on February 24.

The PM-KISAN was formally launched on February 24 last year by Prime Minister Narendra Modi at Gorakhpur, Uttar Pradesh.

Under the scheme, the Centre transfers an amount of Rs 6,000 per year, in three equal instalments, directly into the bank accounts of the farmers, subject to certain exclusion criteria relating to higher income status.

"February 24, 2020 is the 1st anniversary of starting of a new Central Sector Scheme, namely, the Pradhan Mantri Kisan Samman Nidhi (PM-KISAN)," an official statement said.

The scheme was launched to provide income support to all landholding farmers' families across the country and enable them to meet expenses related to agriculture as well as domestic needs, it added.

"The Central Government has already released more than Rs 50,850 crores till now," the ministry said.

Total number of beneficiaries covered under the scheme is about 14 crore, based on estimates of the Agriculture Census 2015-16.

As on February 20 this year,8.46 crores farmer families have been given the benefits.

The scheme is effective from December 2018. The cut-off date for identification of beneficiaries with regard to their eligibility was February 1, 2019. The entire responsibility of identification of beneficiaries rests with the state /UT governments.

The scheme initially provided income support to all small and marginal farmers' families across the country, holding cultivable land up to 2 hectares. However, its ambit was later expanded to cover all farmer families in the country irrespective of the size of their land holdings.

Affluent farmers have been excluded from the scheme such as income tax payers in last assessment year, professionals like doctors, engineers, lawyers, chartered accountants etc and pensioners pensioners drawing at least Rs 10,000 per month (excluding MTS/Class IV/Group D employees).

All installments falling due on or after December 1, 2019 are being paid only on the basis of Aadhaar authenticated bank data of beneficiaries to ensure genuine beneficiaries and avoid duplicity in payments, except in Assam and Meghalaya besides the UTs of Jammu & Kashmir and Ladakh, which are exempted from this requirement till March this year.
'Switch of all lights in your homes for 9 minutes at 9 PM on April 5': PM Modi's appeal to India in video message
Posted on 3rd April 2020
Prime Minister Narendra Modi on Friday addressed the nation through a video message, in which he appealed to the citizens of India to come together to defeat the threat of the coronavirus disease (COVID-19) crisis, that is spreading like wildfire across the nation.

In a unique proposition, the Prime Minister asked every citizen to switch off all lights at their residences on April 5 at 9 PM for nine minutes and instead light a candle, a 'Diya', or their mobile's flashlights to mark India's fight against coronavirus.
---
Tablighi Jamaat patients making lewd gestures at nurses, roaming nude in hospital: Ghaziabad CMO writes to police
Posted on 3rd April 2020
Hours after Delhi government wrote to capital's police commissioner seeking deployment of adequate police force at the quarantine centres and hospital where people who attended the Tablighi Jamaat event in Nizamuddin Markaz have been kept, adjoining Ghaziabad's Chief Medical Officer (CMO) has written to the local police saying that the Jammat attendees have been roaming nude inside the MMG district hospital and making lewd gestures and remarks at the nurses.

In the letter, the CMO said that the inmates who have been put under observation are misbehaving with the hospital staff.
---
960 foreigners linked to Tablighi Jamaat blacklisted, visas cancelled
Posted on 3rd April 2020
Taking stringent action against the Tablighi Jamaat, Nizamuddin, the Centre on Thursday blacklisted 960 foreigners and cancelled their tourist visas after over their involvement in Jamaat activities. The government also said that necessary legal action will be taken against them.

Under the directions of Union Home Minister, Shri Amit Shah, the Ministry of Home Affairs (MHA) has blacklisted 960 foreigners, present in India on tourist visas, for their involvement in Tablighi Jamaat activities, the Ministry of Home Affairs said in an official statement.
---
British Airways to lay off 28,000 employees, 60% of its workforce
Posted on 16th March 2020
The United Kingdom's flagship airline British Airways (BA) will temporarily lay off 28,000 employees, which is a staggering 60% of its entire workforce, news agency PTI reported. The move comes amid the coronavirus disease (COVID-19) crisis which is spreading like wildfire across the world and paralysing the airline sector, among several others.

The airline, which has grounded most of its fleet due to the coronavirus, has been locked in talks with unions for more than a week.
---
Coronavirus: Total confirmed COVID-19 cases cross 10 lakh worldwide; more than 50,000 dead
Posted on 3rd April 2020
The number of 'confirmed' coronavirus disease (COVID-19) cases in the world crossed 10 lakh around late Thursday night, with the Coronavirus Resource Center at the John Hopkins University putting the total number of confirmed cases worldwide at 1,014,673 on Friday at 7 AM.

It is worth noting that it just took a little over 24 hours for the number of global cases to jump from nine lakh to 10 lakh.
---
Be the first person to write a business review for Centre pays Rs 50,850 crore to farmers under PM-KISAN scheme