Ahead of Trump's visit, US lawmakers seek assessment of religious freedom situation in Kashmir
Posted on 13th February 2020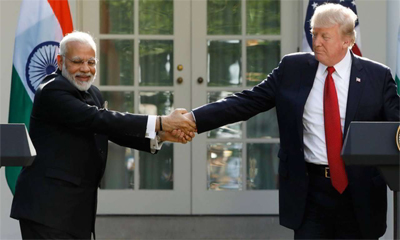 As the US President Donald Trump is scheduled to visit India on February 24, four influential US Senators have called for an assessment of the situation of human rights and religious freedom in the country, saying that hundreds of Kashmiris remain in preventive detention.

In a letter to the Secretary of State Mike Pompeo dated February 12, the senators said that India has imposed the 'longest-ever internet shutdown by a democracy', disrupted access to medical care, business and education for seven million people.

"More than six months after Indian Prime Minister Narendra Modi's government unilaterally revoked the autonomy of Jammu and Kashmir, the government continues to block most internet in the region", said the lawmakers, who describe themselves as 'longtime friends of India'.

"Hundreds of Kashmiris remain in 'preventive detention', including key political figures," the letter read.

Signatories to the letter are Chris Van Hollen, Todd Young, Richard J Durbin and Lindsey O Graham.

"In addition, the Indian government has taken other troubling steps that threaten the rights of certain religious minorities and the secular character of the state. This includes the passage of the controversial Citizenship Amendment Act which is being challenged in India's Supreme Court," the Senators wrote.

In the letter, the Senators requested Pompeo for a State Department assessment of a number of issues in India including the number of individuals detained by the government for political purposes and their treatment; current restrictions on communications in Jammu and Kashmir; current accessibility of Jammu and Kashmir; and restrictions on religious freedoms in Jammu and Kashmir.

The actions taken by the Indian government in Jammu and Kashmir, they said, have severe consequences. That is why, in the Fiscal Year 2020 State, Foreign Operations, and Related Programmes appropriations report, the Congress urged India to fully restore telecommunications and internet services, lift its lockdown and curfew and release the individuals detained pursuant to the Indian government's revocation of Article 370 of the Constitution.

Notably, India has maintained and categorically told the international community that its move to scrap Article 370 was an internal matter. According to officials, the internet is being restored in the Valley in a phased manner after reviewing the security situation. It has also maintained that the Indian Constitution guarantees fundamental rights to all its citizens, including its minority communities.

Trump will pay a state visit to India on February 24 and 25 at the invitation of Prime Minister Narendra Modi, who on Wednesday said the US President's visit will be a "very special one" and it will go a long way in further cementing India-USA friendship.
Telangana CM KC Rao urges PM Modi to extend lockdown till 1st week of June
Posted on 7th April 2020
As confusion around the extension of the lockdown continues to trouble people, Telangana Chief Minister K Chandrasekhar Rao on Monday Prime Minister Narendra Modi to extend the lockdown beyond April 14 to so that the spread of coronavirus in India can be contained.

I'm requesting the PM to talk to all CMs and take a call to extend the nationwide lockdown up to the first week of June, otherwise we cannot control coronavirus pandemic. Even a small country like Singapore is extending lockdown for one more month. Ours is a huge country, Rao said.
---
Global coronavirus death toll nears 75,000; over 13 lakh confirmed COVID-19 cases worldwide
Posted on 7th April 2020
The number of coronavirus cases worldwide has crossed 13 lakh with more than 74,000 deaths, according to the Johns Hopkins University tracker.

The tracker recorded 1,347,676 cases worldwide and 74,744 deaths. Out of the 13 lakh COVID-19 patients, 277,331 have recovered from the disease.

The United States, which has now become the epicentre of the coronavirus, recorded over 20,000 new cases and 1100 new deaths from COVID-19 between Sunday and Monday, according to the university tracker.
---
British PM Boris Johnson taken to ICU as coronavirus symptoms worsen
Posted on 7th April 2020
British Prime Minister Boris Johnson has been taken into intensive care after his coronavirus symptoms worsened on Monday, Downing Street has said.

UK foreign secretary Dominic Raab has taken charge as Johnson was moved to the ICU at St Thomas' Hospital in London on Monday.

Johnson was tested coronavirus positive ten days ago but remained home. He went to the hospital on Sunday night after he continued to have a fever despite self-isolating for more than the stipulated seven days.
---
Coronavirus death toll crosses 10,000 as US enters 'toughest week'
Posted on 7th April 2020
The coronavirus death toll in the United States crossed 10,000 on Monday as the country entered what officials describe as the toughest week.

According to Johns Hopkins University's coronavirus tracker, there are 368,079 COVID-19 cases in the US and 10,923 deaths.

So far, 19,828 infected people have fully recovered.
---
Oil prices skids after Saudi-Russia talks, stocks jump on Covid-19 slowdown
Posted on 6th April 2020
Oil prices skidded on Monday after Saudi-Russian negotiations to cut output were delayed, keeping oversupply concerns alive, while stocks jumped as investors were encouraged by a slowdown in coronavirus-related deaths and new cases.

In currency markets, sterling fell after the British Prime Minister was admitted to the hospital following persistent coronavirus symptoms as the pandemic rapidly spreads.
---
Be the first person to write a business review for Ahead of Trump's visit, US lawmakers seek assessment of religious freedom situation in Kashmir