Oil-linked stocks trade weak as oil prices continue to surge; HPCL down 5%
Posted on 6th January 2020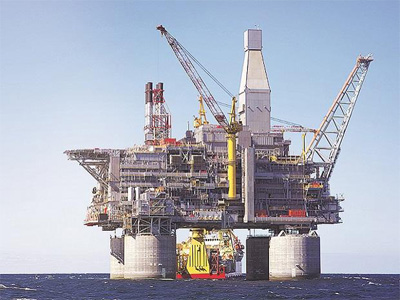 Shares of oil & gas companies, tyre, paint, and aviation firms were under pressure on Monday as oil prices continued to surge after US President Donald Trump issued a threat to impose sanctions on Iraq amid escalating tensions with Iran in the Middle East.

At 09:40 am, Brent crude futures were trading 2.70 per cent higher at 70.45 USD/bbl while WTI Crude Oil (Nymex) were trading at 64.54 USD/bbl, up over 2 per cent. The gains extended Friday's more-than-3 per cent surge after a US air strike in Iraq killed top Iranian commander Qassem Soleimani on Friday. The killing has heightened concerns of a widening Middle East conflict that could disrupt oil supplies from a region that accounts for nearly half of the world's oil production.

The S&P BSE OIL & GAS sector was trading nearly 2 per cent lower at 14,538 levels, with all its constituents trading in the red. Hindustan Petroleum Corporation (HPCL) was the biggest loser on the index as the stock declined nearly 5 per cent to Rs 250 apiece. Other stocks such as Petronet LNG, Reliance Industries (RIL), IGL, IOC, and ONGC were down between 1-2 per cent.

In the paint segment, both Asian Paints and Berger Paints decline lost over 2 per cent each while Kansai Nerolac Paints was trading over 3 per cent down. Among tyre stocks, Apollo Tyres was down nearly 1.5 per cent while MRF slipped over 1.6 per cent to Rs 65,487. JK Tyre & Industries lost around 3.5 per cent and Balkrishna Industries was trading over 0.5 per cent lower.

In the aviation space, InterGlobe Aviation (IndiGo) was down over 2 per cent. However, SpiceJet was trading over half a per cent up at Rs 107. In comparison, the benchmark S&P BSE Sensex was trading at 41,007 levels, down 458 points or over 1 per cent.

Crude oil is one of the key raw materials in the manufacture of paints and tyres; hence spike in oil prices will lead to increase in cost of raw materials. Thatswhy the stocks have been reacting negatively. Similarly, aviation companies uses jet fuel which is processed from crude oil.

Currency experts fear the rupee could react in the coming sessions, which may trigger a heavy pull-out by foreign portfolio investors (FPIs), looking to avoid the impact of currency volatility on their returns.

"A volatile rupee would spook FPIs at a time when we desperately need foreign demand, especially in the bond markets. The rupee at 72.75 is likely to act as resistance for dollar-rupee in the medium term. At 71.20, there is a strong support on the downside," said a Business Standard report quoting Abhishek Goenka, managing director at IFA Global, a foreign exchange advisory firm, as saying.
Get FDA license or face shutdown: Goa govt warns high-end restaurants
Posted on 29th February 2020

The Goa government on Saturday warned all high-end restaurants operating along the coastal belt in the state to obtain the Food and Drugs Administration (FDA) licence within a month or face shutdown.

The warning comes amid concerns over rising food adulteration and use of carcinogenic chemicals in fruits and vegetables by traders.
---
AGR dues: Bharti Airtel pays ₹3,004 crore as full and final settlement
Posted on 29th February 2020

Bharti Airtel said it has paid an amount of ₹3,004 crore towards the full and final settlement of its adjusted gross revenues (AGR) dues in addition to ₹10,000 crore already paid on February 17, 2020 on behalf of the Bharti Group of Companies.

The company added that it has also deposited an additional amount of ₹5,000 crore as an ad-hoc payment (subject to subsequent refund or adjustment) to cover differences, if any, arising from the reconciliation exercise with the Department of Telecommunication (DoT).
---
'Pakistan Army Epicenter Of International Terrorism': Pak minorities protest during UN human rights meet in Geneva
Posted on 29th February 2020

A poster was displayed before the Broken Chair monument in Switzerland's Geneva on Sunday, which condemned Pakistan for being the 'epicenter' of global terrorism. The poster was put up by Pakistan's minorities, to protest against the Pakistan Army's actions, during the ongoing 43rd session of the United Nations Human Rights Council.

The minorities in Pakistan demanded that the United Nations take strict action against Islamabad for its covert support and funding to terror outfits.
---
US, Taliban set to sign historic peace deal today; Indian envoy to attend
Posted on 29th February 2020

The much-anticipated peace deal between the United States and Afghanistan's Taliban is set to be signed in Qatar's Doha on Saturday. Envoys of more than 30 countries, including India, are expected to attend, news agencies reported.

US-Taliban peace deal is set to be signed today evening in Doha (Qatar), Indian envoy is among 30 countries invited to witness the event, ANI reported quoting sources.
---
FB, Twitter, Google threaten to shut services in Pak over new internet law
Posted on 29th February 2020

A coalition comprising digital media giants Facebook, Google and Twitter (among others) have spoken out against the new regulations approved by the Pakistani government for social media, threatening to suspend services in the country if the rules were not revised, it was reported.

In a letter to Prime Minster Imran Khan earlier this month, the Asia Internet Coalition (AIC) called on his government to revise the new sets of rules and regulations for social media, The News International reported on Friday.
---
Be the first person to write a business review for Oil-linked stocks trade weak as oil prices continue to surge; HPCL down 5%