Tata Motors plans to add 100 new passenger vehicle outlets by FY 20 end
Posted on 9th December 2019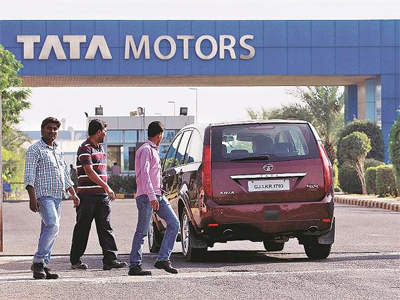 Auto major Tata Motors plans to add 100 sales outlets for passenger vehicles by the end of the current fiscal as it aims to enhance its reach in the country, a senior company official said.

The company, which has around 860 sales outlets spread across the country, has already added up around 100 outlets in the current financial year till now.

"We are expanding sales network. Basically, we are getting into new locations. Idea is that per dealer sales should go up. Dealers are excited with our product range and they are willing to expand their territories by opening new outlets," Tata Motors President (Passenger Vehicles Business Unit) Mayank Pareek told PTI.

There was a plan to add 200 new sales outlets this fiscal, he added.

"Of this 100 has already been added this fiscal, and in rest of the months we will add another 100 showrooms," Pareek said.

The company used to add just 100 showrooms per financial year, and this year has been an exception, he noted.

"With new outlets, the total count would go up to around 960 showrooms by the end of 2019-20," Pareek said.

He, however, added that the company is also in the process of closing various dealerships which have been under performing.

"These are people who are not interested in raising the bar and are unable to face the tough market situation situation right now," Pareek said.

When asked about the number of such dealerships facing closure, he declined to share details, terming it as a "continuous process".

Tata Motors is looking to increase its penetration in the domestic passenger vehicle segment with entry into the premium hatchback segment.

With its new model Altroz, the company aims to enhance its presence to around 60 per cent of the total passenger vehicle market.

"We now have two platforms -- Alfa and Omega. Our plan is that in each of these platforms we should have 6-7 top heads which could be small hatch, big hatch, mid hatch, mini van, MPV, small sedan, big sedan etc," Pareek said.

The company has also developed a lot of concepts, the idea being that in the next 4-5 years, it should be able to cover 90 per cent of the market, he added.

"Even with Altroz, the company would just be able to cover around 60 per cent of the market," Pareek said.

Altroz, which comes with BS-VI compliant petrol and diesel powertrains, is set for launch next month.
Kerala govt makes compulsory for public to follow Covid-19 norms till 2021
Posted on 6th July 2020
The Kerala government has made it mandatory for the public to adhere to Covid-19 safety guidelines such as wearing of masks for the next one year, as part of its measures to tackle the spread of the virus in the state.

Through an amendment brought to the Epidemic Diseases Act, the state government said the regulations for the public will remain in effect till July 2021.
---
HDFC Bank shares gain 3% on strong loan growth in June quarter
Posted on 6th July 2020
Shares of HDFC Bank rose 3 per cent to Rs 1,110 on the BSE on Monday after the bank reported strong loan growth of 21 per cent year on year (y-o-y) at Rs 1.04 trillion for the first quarter of financial year 2020-21 (Q1FY21).

The Bank's advances aggregated to approximately Rs 1.04 trillion as of June 30, 2020, a growth of around 21 per cent as compared to Rs 8,297 crore as of June 30, 2019 (Rs 9,937 crore as of March 31, 2020), HDFC Bank said in an exchange filing.
---
Vegetable prices rise up to 200%; trade blame crop damage and fuel price
Posted on 6th July 2020
The prices of food items, including vegetables, have started to skyrocket even as the coronavirus crisis shows no sign of abating. The prices of vegetables, in particular, have increased quite significantly with retail prices of almost all kinds rising from 25 per cent to 200 per cent.

The most significant rise has been registered in the price of tomato. Vegetable traders say prices have risen due to crop failure during the rainy season.
---
COVID-19 Outbreak: India crosses Russia, takes third spot in list of worst-hit nations
Posted on 6th July 2020
As the coronavirus cases in India continue to spread rapidly, India is now just behind the United States, and Brazil in terms of the total confirmed cases. With close to 25,000 new cases on Sunday, India overtook Russia to take the third spot in the list of nations worst hit by the coronavirus disease (COVID-19) pandemic outbreak. It is, therefore, the biggest epicenter of the coronavirus disease pandemic in Asia.

India's COVID-19 count on Sunday crossed the 6.97 lakh-mark, while the death toll has crossed the 19,500-mark as well.
---
Devotees throng Lord Shiva temples on first Monday of Sawan
Posted on 6th July 2020
On the first Monday of 'Sawan' (Shravan) month, devotees started coming to Lord Shiva temples in different parts of the country from the early morning to offer prayers.

Uttar Pradesh Chief Minister Yogi Adityanath offered prayer at Mansarovar Temple, on the first Monday of 'sawan' month.
---
Be the first person to write a business review for Tata Motors plans to add 100 new passenger vehicle outlets by FY 20 end