MTPL to set up off-highway tyre facility in Gujarat, invest $107 million
Posted on 6th December 2019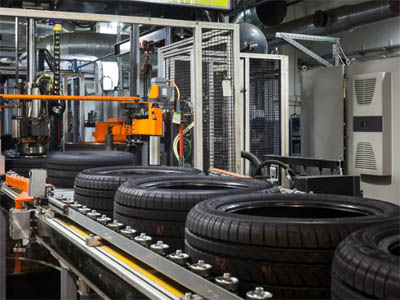 Mahansaria Tyres Private Limited (MTPL) will set up a $107-million facility to manufacture off-highway tyres in Gujarat, backed by International Finance Corporation (IFC) through equity and loan.

IFC will provide a loan of up to $30 million and it will buy a stake in MTPL for up to $7.74 million.

MTPL is owned by Ashok Mahansaria, Yogesh Mahansaria and Yogesh Investments Private Ltd. (YAIPL), erstwhile sponsors of Balkrishna Industries and Alliance Tyre Group, and it has over 25 years of experience in off-highway tyres used in agriculture and construction industry.

Cost for phase 1, which will involve setting up 40,000 MT capacity, is $107 million. This will be funded by debt of up to $54 million, including IFC's loan, which will have a tenor of 10 years.

IFC will also mobilise another loan of up to $24 million on similar terms. This gives the company access to a different fundraising channel --from institutional financiers -- and help it develop a more diversified investor base.

"IFC's investment will provide validation of a greenfield business plan and the growth prospect of the sector. This will send a positive signaling effect to other investors on the soundness of the project and help attract investors for the current and future financing stages," said IFC.

MTPL estimates exports to account for 70-80 per cent of sales and contribute to India's forex earnings. The project will support value-addition in the domestic rubber production industry and is expected to create 1,500 jobs in the first phase.

OHT has a small presence India, compared to developed markets such as EU and North America. The size of OHT segment globally is still relatively small as it accounts for only about 10 per cent of the braoder tyre industry. At present, value brands have around 30 per cent share in the global market. Indian players hold half of this market share.

The Indian OHT market is price sensitive due to low farm income. As a result, the product range in India is not as specialized as in the EU and North America, where more application specific solutions are available.

Indian players such as MTPL stand to gain by producing more products in the value brand segment of OHT tyres, given that conversion costs in India are lower than in any other manufacturing bases. This project will demonstrate the competitiveness of Indian players in the global market and increase the overall share of Indian value brands, said IFC.
Nirbhaya case: SC to hear curative petitions by two convicts on Jan 14
Posted on 11th January 2020

A five-judge bench of the Supreme Court will hear on January 14 curative petitions of two of the four death-row convicts in the Nirbhaya case.

A bench of Justices N V Ramana, Arun Mishra, R F Nariman, R Banumathi and Ashok Bhushan will hear the curative petitions filed by Vinay Sharma and Mukesh at 1.45 pm.
---
Goa police arrests 8 people with demonetised currency worth Rs 1.5 crore
Posted on 11th January 2020

Eight persons were arrested for allegedly possessing demonetised currency notes worth Rs 1.5 crore, Goa police said on Saturday.

The demonetised currency was seized during a routine search of vehicles at the Pollem border check post in South Goa on Friday, deputy superintendent of police (Canacona) Kiran Paudwal.
---
Illegal apartment complex in Kerala demolished; SC order implemented
Posted on 11th January 2020

A high rise apartment complex was brought down through controlled implosion method as authorities began implementing a Supreme Court order to demolish four illegal water-front structures in Maradu municipality here on Saturday.

The residential complex was demolished at 11.18 am.

The 60-meter high 19-storey building, known as "Holy Faith H20, was levelled in seconds in a spectacular implosion.
---
Panasonic Life to invest Rs 600 crore for electrical equipment near Chennai
Posted on 11th January 2020

Panasonic Life Solutions will invest Rs 600 crore in India, initially spending Rs 294.7 crore to set up an electrical equipment and wiring manufacturing plant in SriCity near Chennai.

The plant will start work by October 2021, becoming Panasonic's eighth electrical equipment production base in India after facilities in north and west India.
---
Centre notifies Citizenship Act amid protests; SC to hear pleas on Jan 22
Posted on 11th January 2020

The Centre notified the Citizenship Amendment Act (CAA) on Friday. The notification comes nearly a month after Parliament passed it on December 11, and in the wake of sustained anti-CAA protests. The Supreme Court is set to hear petitions challenging the constitutionality of the law on January 22.

The Centre, by notifying the law, has indicated its resolve to implement it even as lawyers and retired judges, Opposition parties, activists, students and retired bureaucrats have criticised it as unconstitutional as it discriminates on the basis of religion.
---
Be the first person to write a business review for MTPL to set up off-highway tyre facility in Gujarat, invest $107 million