HDFC Bank sees signs of rural revival as wider economy remains sluggish
Posted on 3rd December 2019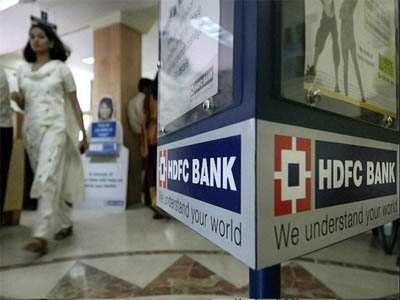 HDFC Bank, India's most valuable lender by market capitalisation, sees tentative signs of a revival in rural areas at a time when the wider economy is sputtering.

"The recent loan outreach programs underway in rural areas have given us the sense that the consumption in rural and semi-urban areas is turning more positive," HDFC Bank Executive Director Kaizad Bharucha said in an interview last week. As of end-September, 52 per cent of the bank's outlets were in rural and semi-urban India, a part of the economy that accounts for at least half of the national output.

Prime Minister Narendra Modi's government has unveiled several steps to boost the economy, which is growing at its weakest pace in more than six years, including a surprise $20 billion corporate tax cut. The Reserve Bank of India is expected to cut interest rates again this week, after Friday's report that gross domestic product growth slowed to 4.5 per cent in the September quarter.

For HDFC Bank, the weaker economy had led to a slowdown in loan growth, which eased to 15 per cent in the September quarter from 23 per cent a year earlier. But it remained healthy compared with the overall banking system which saw credit growth slowing to a two-year low just above 8 per cent.

"As a bank we are well positioned to offset a slowdown in either the consumption or investment side as we are present across the spectrum," Bharucha said. "The demand for credit is not going away. It may just be subdued for a period of time," he added.

He's also cautiously optimistic about the outlook for corporate investment, based on the bank's soundings with Indian executives.

Muted loan growth has hardly dented the upward march in HDFC Bank's shares, which are about 19 per cent higher so far this year. Now valued at about $96 billion, the company trades around 26 times projected 12 month earnings. That's almost three times more expensive than the Bloomberg World Banks Index and is the biggest valuation premium on record.

World's most-loved megabank is surrounded by a lending crisis

Meanwhile, non-bank lenders from Dewan Housing Finance Corp Ltd. to Reliance Capital Ltd. have been reeling under a 17-month credit crisis after Infrastructure Leasing & Financial Services Ltd. defaulted on its debt last year. In a further blow to confidence, the Securities and Exchange Board of India placed curbs on operations of Karvy Stock Broking Ltd. after finding evidence it misused client funds.

But Bharucha doesn't see a wider industry problem.

"There is enough control over stockbrokers and depositories and a default in the segment will not have a systemic impact," he said. The central bank "has ensured that there is adequate liquidity in the system and availability of credit is not a problem."
Nirbhaya case: SC to hear curative petitions by two convicts on Jan 14
Posted on 11th January 2020

A five-judge bench of the Supreme Court will hear on January 14 curative petitions of two of the four death-row convicts in the Nirbhaya case.

A bench of Justices N V Ramana, Arun Mishra, R F Nariman, R Banumathi and Ashok Bhushan will hear the curative petitions filed by Vinay Sharma and Mukesh at 1.45 pm.
---
Goa police arrests 8 people with demonetised currency worth Rs 1.5 crore
Posted on 11th January 2020

Eight persons were arrested for allegedly possessing demonetised currency notes worth Rs 1.5 crore, Goa police said on Saturday.

The demonetised currency was seized during a routine search of vehicles at the Pollem border check post in South Goa on Friday, deputy superintendent of police (Canacona) Kiran Paudwal.
---
Illegal apartment complex in Kerala demolished; SC order implemented
Posted on 11th January 2020

A high rise apartment complex was brought down through controlled implosion method as authorities began implementing a Supreme Court order to demolish four illegal water-front structures in Maradu municipality here on Saturday.

The residential complex was demolished at 11.18 am.

The 60-meter high 19-storey building, known as "Holy Faith H20, was levelled in seconds in a spectacular implosion.
---
Panasonic Life to invest Rs 600 crore for electrical equipment near Chennai
Posted on 11th January 2020

Panasonic Life Solutions will invest Rs 600 crore in India, initially spending Rs 294.7 crore to set up an electrical equipment and wiring manufacturing plant in SriCity near Chennai.

The plant will start work by October 2021, becoming Panasonic's eighth electrical equipment production base in India after facilities in north and west India.
---
Centre notifies Citizenship Act amid protests; SC to hear pleas on Jan 22
Posted on 11th January 2020

The Centre notified the Citizenship Amendment Act (CAA) on Friday. The notification comes nearly a month after Parliament passed it on December 11, and in the wake of sustained anti-CAA protests. The Supreme Court is set to hear petitions challenging the constitutionality of the law on January 22.

The Centre, by notifying the law, has indicated its resolve to implement it even as lawyers and retired judges, Opposition parties, activists, students and retired bureaucrats have criticised it as unconstitutional as it discriminates on the basis of religion.
---
Be the first person to write a business review for HDFC Bank sees signs of rural revival as wider economy remains sluggish