DLF operating revenue falls 20% to Rs 1,716 crore in September quarter
Posted on 8th November 2019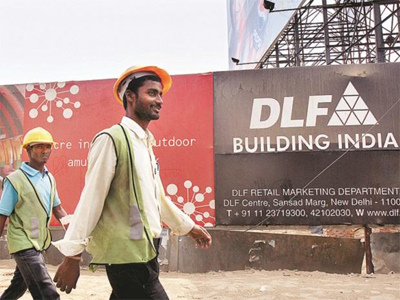 Real estate major DLF reported a 19.8 per cent year-on-year drop in consolidated operating revenue for the July-September quarter, to Rs 1,716 crore. Expenses towards cost of land, plots, constructed properties and developmental rights dropped 28 per cent, to Rs 885 crore.

During the quarter, it utilised Rs 1,036 crore (of the Rs 2,250 crore it had got against exercise of warrants in June) towards repayment of bank loans. And, another Rs 149.5 crore for working capital requirement, including loans to subsidiaries. It had invested another Rs 288.4 crore, DLF informed the markets regulator.

Cost of finance came down by 16 per cent. Consolidated profit before tax remained flat at Rs 517.6 crore.

On a standalone basis, profit before tax jumped 464 per cent to Rs 1,967 crore, as it received Rs 1,939.4 crore as dividend from DLF Cyber City Developers, a JV group company.

Standalone total revenue also grew over last year, with the dividend received. After taking the latter into account, it reported total income of Rs 2,556 crore for the quarter, 166 per cent higher than in the same period last year.
Google faces $5 bn lawsuit in US for illegally tracking internet usage
Posted on 3rd June 2020
Google was sued on Tuesday in a proposed class action accusing the internet search company of illegally invading the privacy of millions of users by pervasively tracking their internet use through browsers set in private mode.

The lawsuit seeks at least $5 billion (4 billion pounds), accusing the Alphabet Inc unit of surreptitiously collecting information about what people view online and where they browse, despite their using what Google calls Incognito mode.
---
IndiGo CEO says flights are the safest mode of travel amid coronavirus
Posted on 3rd June 2020
The airline industry is trying to convince passengers that air travel is safe after the government eased a nationwide lockdown to contain the coronavirus and allowed businesses to resume.

Ronojoy Dutta, CEO, IndiGo said that the airbus aircraft cabin is equipped with High-Efficiency Particle Filters (HEPA) which ensures that virus does get not re-circulated.
---
Voda-Idea completes first phase of DSR deployment in partnership with Nokia
Posted on 3rd June 2020
Telecom gear maker Nokia and telecom operator Vodafone Idea on Wednesday announced the completion of the first phase of world's largest deployment of Dynamic Spectrum Refarming technology in the country.

The Dynamic Spectrum Refarming (DSR) technology, helps in enhancing user experience by making optimal use of network spectrum assets.
---
---
PM Modi, President Trump discuss situation on India-China border, US protests over phone
Posted on 3rd June 2020
Prime Minister Narendra Modi and US President Donald Trump on Tuesday held a telephonic conversation where the two leaders discussed the next G-7 Summit, the COVID-19 pandemic and the ongoing protests in the United States.

Had a warm and productive conversation with my friend President @realDonaldTrump. We discussed his plans for the US Presidency of G-7, the COVID-19 pandemic, and many other issues, Modi said in a tweet.
---
Be the first person to write a business review for DLF operating revenue falls 20% to Rs 1,716 crore in September quarter