Make in India is yet to create enough jobs, says L&T chairman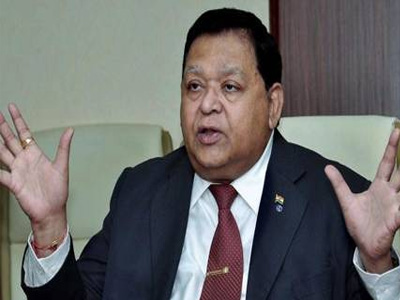 Mumbai: The government's Make in India initiative has failed to create enough jobs as companies across sectors still prefer to import goods instead of manufacturing locally, said Larsen and Toubro Ltd chairman A.M. Naik.
"The Prime Minister's Make In India programme, which is spoken about a lot, has to do a lot more. We are exporting jobs now instead of exporting goods," Naik, who also heads the National Skill Development Corp. (NSDC), a public-private partnership, said in an interview. "We have to find answers as to why most Indian companies are keen to import rather than manufacture here."
The other reason for high imports is because Indian companies do not have enough financing options available, Naik said. "We allow imports because it often comes with credit facility."
India, home to the world's largest youth population, needs to create enough employment opportunities for the more than 10 million young people who enter the job market every year. The latest jobs report suggests that the country is not creating enough jobs for its massive population.
Economic growth slowed sharply to 5.8% in the three months ended 31 March, on the back of weak consumption and slowing private investment. Growth, according to some estimates, may weaken further in the current fiscal.
Naik said job creation, especially in the manufacturing sector, has failed to keep pace with the supply of skilled labour.
"The mismatch between the right skills and jobs will always be there. But it's the gravity of the situation that matters the most," Naik said. "We need at least an economy equivalent to China's since our population is almost the same. Otherwise, there is always going to be a shortage of jobs and unless the economy grows like it did in China, which means at least 12-13% growth every year, this disparity will remain."
"We are not able to create jobs at the pace needed to bridge this gap," he said.
NSDC, set up in 2008 under the Union ministry of skill development and entrepreneurship, implements short-term skill development programmes of the government. According to NSDC's 2018 annual report, it trained 3.98 million students that year, through 11,035 training centres across 40 skill development programmes. Only about 12% of those who were trained under NSDC programmes found jobs, according to government statistics.
Naik said his focus as chairman of NSDC is on improving the quality of trainers in the system. "We need high-quality staff and teachers for training," he said. "In smaller cities, the situation is quite pathetic and the teachers are very average. L&T is also setting up a training institute in Madh Island near Mumbai, which will offer residential training for teachers in the NSDC system. It will become operational from 1 April and start with five trades. "If this experiment is successful, we will open more such centres," he said.
Citing the ongoing trade war between the US and China as an emerging opportunity, Naik said that while several countries, including Vietnam and Thailand, have benefited from President Donald Trump's diversification from China to other countries for manufacturing, India has failed to take advantage. "What did India do? If I was implementing this, I would have created a separate ministry on how to bring foreign investment and export-oriented business to India."
"I strongly feel that Prime Minister Narendra Modi needs to bring the Gujarat model to the national level," Naik said, referring to Modi's tenure as the chief minister of the state before he became the prime minister. Modi is credited with attracting large investments and creating a conducive environment for industry in the state.