Hyundai Motor India dealers feel squeeze as loan norms tightened
Posted on 30th July 2019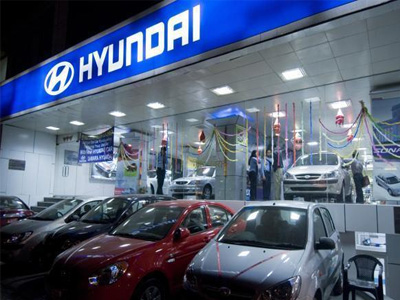 Come October, some dealers of Hyundai Motor India may need to furnish collateral of anywhere between 25% and 50% of the loan amount taken from State Bank of India, depending upon the lender's internal rating. However, there are dealers who have already furnished the collateral at the time of renewing their loans or getting them enhanced.

An SBI circular dated March 27 noted that dealers would need to provide a minimum 25% or 50% of collateral security based on a rating obtained when the loan was renewed or enhanced or a period of six months, whichever was earlier. The collateral can be an immovable asset, fixed deposits or specified securities. Earlier, lenders rarely asked dealers for any collateral. In a letter to Hyundai, SBI had communicated it has reduced the credit period from 90 days to 60 days, with a 15-day grace period to pay back the loan.

Post the grace period, interest rate will be levied at the rate of 6% compared with the 2% levied earlier.

FE has seen a copy of the circular issued to Hyundai.

The rules relating to dealer financing are understood to have been tightened for dealers of Maruti Suzuki. A senior bank executive said the terms were slightly different for Maruti. Sector experts noted the slowdown in the automobile industry and the closure of some 200 dealers has made lenders understandably cautious. Emails sent to Hyundai Motor India and Maruti Suzuki did not elicit a response till the time of going to press.

In a written response the lender said: "SBI is one of the biggest providers of credit for financing of auto dealers and auto loans to individuals. In view of the current slowdown in auto sector, the Bank is continuously reviewing its exposure to the sector. The Bank is actively engaged with the auto majors, dealers and the industry associations like Federation of Automobile Dealers Associations (FADA). The Bank in consultation with auto majors has taken steps to provide support to the dealers for inventory funding by them to tide over the current phase.

Responding to the recent downturn in the auto industry, we at SBI proactively got in touch with our customers, Original Equipment Manufacturers (OEMs), dealers as well as their associations such as FADA for gaining insights into their issues and modifying our product suitably so as to ensure that the sector does not face any stress and the Bank is committed to take any further steps necessary in this regard."

"A credit period of up to 90 days excluding grace period will be provided selectively by the sanctioning authority to dealers, if recommended by Hyundai," the circular read. It also said this will be subject to certain conditions, such as in cases where a minimum of 25-50% collateral is available and the dealer is availing the inventory funding with the bank for the last two years. Other conditions include a minimum of 20% coverage of the banks retail loan portfolio of the dealers total retail and a higher rate of interest where credit period is beyond 60 days.
Govt gives sugar mills time till Dec 31 to export last year's balance quota
Posted on 11th November 2019
The government on Monday gave sugar mills three months more till December to export the last year's balance quota of the sweetener.

Mills were able to export about 3.8 million tonne of sugar during the 2018-19 marketing year (October-September) due to depressed market conditions, against the target of 5 million tonne under the Minimum Indicative Export Quota (MIEQ) scheme.
---
India smartphone shipments rise 9.3% in Q3; Xiaomi leads the list
Posted on 11th November 2019

Multiple online sales festivals, new launches and price corrections on a few key models by brands helped smartphone shipments in India grow 9.3 per cent in the July-September quarter to touch record 46.6 million units, research firm IDC said on Monday.

Sequentially, Smartphone shipments were higher by 26.5 per cent in the third quarter ended September 2019 compared to the previous quarter. IDC expects the smartphone market to see only mid-to-high single-digit year-on-year growth in 2019.
---
Ayodhya verdict is cue for PM Modi to focus on fixing India's economy
Posted on 11th November 2019
Over the weekend, India's Supreme Court pronounced on a title dispute in Ayodhya, a small town in India's northern state of Uttar Pradesh. Like many other property cases in India, this one had been working its way through the judicial system for decades. But it may be the most consequential such dispute in Indian history.

Millions of Hindus believe Ayodhya was the capital of Ram, an avatar of Vishnu and hero of the epic Ramayana, and the dispute was over rights to the site where Hindus say a 16th century mosque was built over Ram's birthplace.
---
Auto slowdown: Car sales continue to slide; decline by 6.34% in October
Posted on 11th November 2019
Domestic passenger vehicle sales witnessed a marginal increase of 0.28 per cent to 2,85,027 units in October from 2,84,223 units in the year-ago period.

Domestic car sales were down 6.34 per cent to 1,73,649 units as against 1,85,400 units in October 2018, according to data released by the Society of Indian Automobile Manufacturers (Siam).
---
Shiv Sena MP Arvind Sawant resigns from Union Minister post
Posted on 11th November 2019
Union Minister of Heavy Industries and Public Enterprises and Shiv Sena MP Arvind Sawant today resigned from his ministerial post, amid the political developments in Maharashtra. Sawant was sworn in after the 2019 Lok Sabha elections, the lone Union Minister from Shiv Sena.

At 8:00 AM, news agency ANI posted an update, quoting Sawant, who said, I am resigning from my ministerial post, thereby confirming the earlier reports of him possibly resigning and the Sena quitting ties with the NDA alliance at the centre.
---
Be the first person to write a business review for Hyundai Motor India dealers feel squeeze as loan norms tightened