Raghuram Rajan signals Brexit politics deterred him from seeking BOE job
Posted on 20th July 2019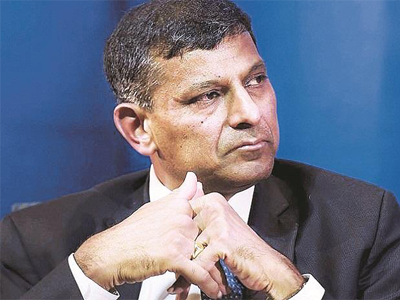 Former Reserve Bank of India governor Raghuram Rajan has indicated the political challenges posed by Brexit were the reasons he didn't apply to head up the Bank of England.

In an interview with the BBC, Rajan confirmed he hadn't sought the position and cited the fact that central banking "has become much more political in recent times" as an explanation for why not.

The government is seeking a successor to Mark Carney, who will step down in January. Carney has been thrust into the heart of the Brexit debate either by having to adjust monetary policy to react to it or because of criticism from some lawmakers that he is overly pessimistic about the economic risks of leaving the European Union.

"It's best a country has someone who understands the political situation within that country and knows how to navigate that," Rajan told the BBC. "It's obvious I'm an outsider and I have very little understanding of the deep ebbs and flows of politics in that country."

Rajan, who now teaches at Chicago Booth School of Business and once served as chief economist of the International Monetary Fund, was recently named as the second most likely to get the BOE job by economists in a Bloomberg News survey. He trailed Andrew Bailey, the chief executive of the Financial Conduct Authority.

'Perfectly Happy'

Chancellor of the Exchequer Philip Hammond started searching for a replacement for Carney in April and has attracted 30 applications. He met with Rajan in January, according to the Treasury, although Rajan declined to tell the BBC if he had been approached to run the central bank.

"I'm perfectly happy in my job," he said. "I haven't applied for any job."

Hammond, who is likely to exit the Treasury once a new prime minister takes office next week, had spoken of looking for a new governor with international experience. Former Federal Reserve Chair Janet Yellen also didn't apply, a person familiar with the matter said this week.

The reluctance of foreign economists to step forward may boost the chances of domestic contenders such as Bailey or current BOE officials Andrew Haldane, Jon Cunliffe, David Ramsden and Ben Broadbent. Others linked to the role include Shriti Vadera, the Santander Plc chair, and Sharon White, outgoing chief executive officer of regulator Ofcom.

Gerard Lyons, a former economic adviser to Boris Johnson, the likely next prime minister, has been interviewed for the job, according to The Times.

Rajan knows first hand of the political challenges of being a central banker. He left India's central bank after just one term amid heavy criticism from segments of the government for offering opinions on matters unrelated to monetary policy.
Auroinbo recalls heartburn drug ranitidine, two others from US market
Posted on 6th December 2019

Aurobindo Pharma Limited has initiated a nationwide recall of three drugs from the US, two of them due to manufacturing issues. The development comes close on the heels of the regulatory compliance issues being faced by several of its manufacturing facilities back home.

These three products include heartburn drug Ranitidine that the US Food and Drug Administration(US FDA) had recently asked the companies to withdraw from the market owing to the presence of carcinogenic nitrosodimethylamine (NDMA) compound above the daily acceptable intake limits in the formulation.
---
MTPL to set up off-highway tyre facility in Gujarat, invest $107 million
Posted on 6th December 2019

Mahansaria Tyres Private Limited (MTPL) will set up a $107-million facility to manufacture off-highway tyres in Gujarat, backed by International Finance Corporation (IFC) through equity and loan.

IFC will provide a loan of up to $30 million and it will buy a stake in MTPL for up to $7.74 million.
---
Growth of world cities to decline in 2020-21 amid global slump: Research
Posted on 6th December 2019

The blockbuster growth in the world's major cities in recent years will slow sharply in 2020 and 2021 as the global trade slowdown takes its toll, according to new research.

Nine of the top 10 biggest global cities will slow next year, with the stars of the US Silicon Valley showing the most dramatic signs of slamming on the brakes, Oxford Economics researchers found in a report provided to AFP.
---
Mahindra & Mahindra nears 52-week low; stock slips 12% in one month
Posted on 6th December 2019

Shares of Mahindra & Mahindra (M&M) slipped 2 per cent to Rs 512 on the BSE on Friday and was trading close to its 52-week low level. The car & utility vehicles maker's stock is less than 2 per cent away from its 52-week low price of Rs 503, touched on August 14, in intra-day trade.

In past one month, M&M has underperformed the market by falling 12 per cent as the company's tractor sales delivered disappointing performance.
---
Vodafone Idea will shut shop if govt doesn't provide relief: KM Birla
Posted on 6th December 2019
Vodafone Idea Ltd, India's third largest mobile service provider, will shut down if the government does not provide relief on the liability it faces in past statutory dues following a Supreme Court order, its billionaire chairman Kumar Mangalam Birla said on Friday. "If we we are not getting anything then I think it is end of story for Vodafone Idea," Birla said at the HT Leadership Summit when asked about the future of Vodafone Idea in absence of a government relief on payment of Rs 53,038 crore dues.
---
Be the first person to write a business review for Raghuram Rajan signals Brexit politics deterred him from seeking BOE job