Raghuram Rajan signals Brexit politics deterred him from seeking BOE job
Posted on 20th July 2019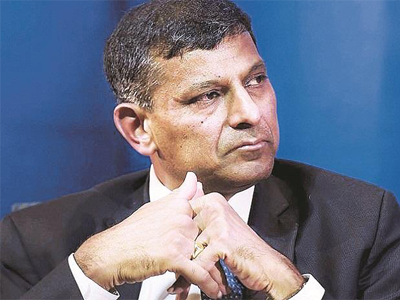 Former Reserve Bank of India governor Raghuram Rajan has indicated the political challenges posed by Brexit were the reasons he didn't apply to head up the Bank of England.

In an interview with the BBC, Rajan confirmed he hadn't sought the position and cited the fact that central banking "has become much more political in recent times" as an explanation for why not.

The government is seeking a successor to Mark Carney, who will step down in January. Carney has been thrust into the heart of the Brexit debate either by having to adjust monetary policy to react to it or because of criticism from some lawmakers that he is overly pessimistic about the economic risks of leaving the European Union.

"It's best a country has someone who understands the political situation within that country and knows how to navigate that," Rajan told the BBC. "It's obvious I'm an outsider and I have very little understanding of the deep ebbs and flows of politics in that country."

Rajan, who now teaches at Chicago Booth School of Business and once served as chief economist of the International Monetary Fund, was recently named as the second most likely to get the BOE job by economists in a Bloomberg News survey. He trailed Andrew Bailey, the chief executive of the Financial Conduct Authority.

'Perfectly Happy'

Chancellor of the Exchequer Philip Hammond started searching for a replacement for Carney in April and has attracted 30 applications. He met with Rajan in January, according to the Treasury, although Rajan declined to tell the BBC if he had been approached to run the central bank.

"I'm perfectly happy in my job," he said. "I haven't applied for any job."

Hammond, who is likely to exit the Treasury once a new prime minister takes office next week, had spoken of looking for a new governor with international experience. Former Federal Reserve Chair Janet Yellen also didn't apply, a person familiar with the matter said this week.

The reluctance of foreign economists to step forward may boost the chances of domestic contenders such as Bailey or current BOE officials Andrew Haldane, Jon Cunliffe, David Ramsden and Ben Broadbent. Others linked to the role include Shriti Vadera, the Santander Plc chair, and Sharon White, outgoing chief executive officer of regulator Ofcom.

Gerard Lyons, a former economic adviser to Boris Johnson, the likely next prime minister, has been interviewed for the job, according to The Times.

Rajan knows first hand of the political challenges of being a central banker. He left India's central bank after just one term amid heavy criticism from segments of the government for offering opinions on matters unrelated to monetary policy.
Wipro inks pact with Indian Institute of Science for research in robotics, 5G
Posted on 20th August 2019
Wipro Limited on Tuesday announced a strategic partnership with the Indian Institute of Science (IISc) to conduct advanced applied research in autonomous systems, robotics and 5G space. The two organisations have jointly set up the Wipro IISc Research and Innovation Network (WIRIN), an industry academia collaboration unit.
---
Yes Bank shares tumble 7% on fraudulent transactions at CG Power and Industrial Solutions
Posted on 20th August 2019
Shares of Yes Bank plunged more than 7 per cent after the risk and audit committee of CG Power and Industrial Solutions in which the private lender owns more than 12.79 per cent stake said there were some unauthorized transactions by certain employees of the company. CG Power also received a letter from a particular financing company regarding a certain interest payment failure which the Operations Committee of the company was unable to trace or ascertain from the financials of the company, according to the exchange filing.
---
SBI announces special car, personal, education loan benefits ahead of festive season
Posted on 20th August 2019
India's biggest bank State Bank of India (SBI) has announced special offerings ahead of this festive season for retail customers across different product categories: auto/car loan, personal loan, education loan and home loan. SBI has waived processing fees on car loans during this festival season. In addition, SBI is offering "lowest" interest rate starting from 8.70% to customers opting for car loan, with no escalation in interest, the bank said.
---
Sebi likely to ease share buyback norms for NBFC
Posted on 20th August 2019
Mumbai: In the wake of the liquidity crisis hitting the NBFCs and housing finance companies (HFCs), securities market regulator Sebi might ease share buy-back norms for these firms.

The proposal is expected to be presented at the regulator's board meet on Wednesday.
---
NTPC to set up 5,000-MW ultra mega solar park in Gujarat, Rajasthan
Posted on 20th August 2019
NTPC, India's largest power producer, is planning to set up ultra mega solar parks (UMSPs) of 5,000 MW capacity across solar radiation-rich states of Gujarat and Rajasthan to help India meet its 2022 renewable energy target, and to reduce its overall dependence on fossil fuel. NTPC chairman and MD Gurdeep Singh said the first ultra mega solar park will come up in Kutch district of Gujarat, while the next is planned in Rajasthan. "We have identified the location, and the process for acquisition of land will start soon in Kutch. We plan to invite the bids for the first phase of the park by March 2020," Singh said.
---
Be the first person to write a business review for Raghuram Rajan signals Brexit politics deterred him from seeking BOE job