Over 1,000 mobile towers of BSNL not functional over non-payment of energy bills
Posted on 10th July 2019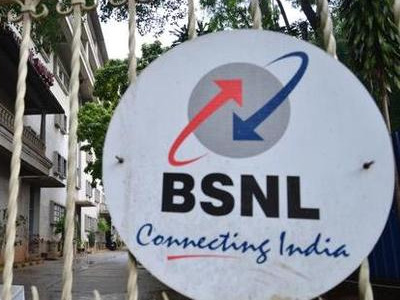 NEW DELHI: Over 1,000 mobile towers and 500 telephone exchanges of cash-strapped Bharat Sanchar Nigam Ltd (BSNL) are not functional due to non-payment of electricity bills, Parliament was informed on Wednesday.

A comprehensive revival plan for two state-owned firms BSNL and Mahanagar Telephone Nigam Ltd (MTNL) is under preparation, Communications Minister Ravi Shankar Prasad said in a written reply to the Lok Sabha.

"Action has already been initiated by the Department of Telecommunications (DoT) and a comprehensive revival plan for BSNL and MTNL is under preparation," the minister said.

In the case of BSNL, the number of non-functional mobile towers and telephone exchanges due to non-payment of energy bills added up to 1,083 and 524, respectively, in various locations.

To another question, the minister said BSNL has informed that its 258 mobile towers are not functional on account of non-payment of dues to the land owners.

"BSNL has also informed that building owners are being pursued and payment will be made in due course of time," he said.

While the total market share of BSNL rose marginally between March 2017 and March 2019, MTNL's market share declined. For 2018-19, BSNL saw 53.64 lakh subscriber port-in, and 28.27 lakh port-outs, whereas MTNL for the same year saw 10,195 port-in as against 1.35 lakh port-outs.

"BSNL and MTNL have been incurring losses continuously since financial year 2009- 10," the minister said.
Wipro inks pact with Indian Institute of Science for research in robotics, 5G
Posted on 20th August 2019
Wipro Limited on Tuesday announced a strategic partnership with the Indian Institute of Science (IISc) to conduct advanced applied research in autonomous systems, robotics and 5G space. The two organisations have jointly set up the Wipro IISc Research and Innovation Network (WIRIN), an industry academia collaboration unit.
---
Yes Bank shares tumble 7% on fraudulent transactions at CG Power and Industrial Solutions
Posted on 20th August 2019
Shares of Yes Bank plunged more than 7 per cent after the risk and audit committee of CG Power and Industrial Solutions in which the private lender owns more than 12.79 per cent stake said there were some unauthorized transactions by certain employees of the company. CG Power also received a letter from a particular financing company regarding a certain interest payment failure which the Operations Committee of the company was unable to trace or ascertain from the financials of the company, according to the exchange filing.
---
SBI announces special car, personal, education loan benefits ahead of festive season
Posted on 20th August 2019
India's biggest bank State Bank of India (SBI) has announced special offerings ahead of this festive season for retail customers across different product categories: auto/car loan, personal loan, education loan and home loan. SBI has waived processing fees on car loans during this festival season. In addition, SBI is offering "lowest" interest rate starting from 8.70% to customers opting for car loan, with no escalation in interest, the bank said.
---
Sebi likely to ease share buyback norms for NBFC
Posted on 20th August 2019
Mumbai: In the wake of the liquidity crisis hitting the NBFCs and housing finance companies (HFCs), securities market regulator Sebi might ease share buy-back norms for these firms.

The proposal is expected to be presented at the regulator's board meet on Wednesday.
---
NTPC to set up 5,000-MW ultra mega solar park in Gujarat, Rajasthan
Posted on 20th August 2019
NTPC, India's largest power producer, is planning to set up ultra mega solar parks (UMSPs) of 5,000 MW capacity across solar radiation-rich states of Gujarat and Rajasthan to help India meet its 2022 renewable energy target, and to reduce its overall dependence on fossil fuel. NTPC chairman and MD Gurdeep Singh said the first ultra mega solar park will come up in Kutch district of Gujarat, while the next is planned in Rajasthan. "We have identified the location, and the process for acquisition of land will start soon in Kutch. We plan to invite the bids for the first phase of the park by March 2020," Singh said.
---
Be the first person to write a business review for Over 1,000 mobile towers of BSNL not functional over non-payment of energy bills