SC admits plea to lift ban on Muslim women entering mosques
Posted on 16th April 2019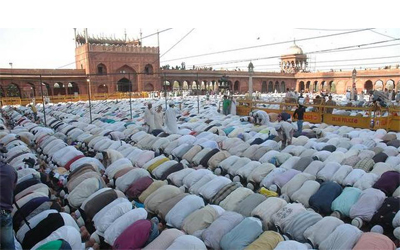 The Supreme Court on Tuesday admitted a plea of a couple to lift the prohibition on entry of Muslim women into mosques across the country.

"The only reason we may hear you is because of our judgement in Sabarimala temple," a Bench of Justices S.A. Bobde and S. Abdul Nazeer remarked orally. The court issued notice to the government and various bodies, including the National Commission for Women.

In September last, a Constitution Bench of the court lifted the age-old ban on women of menstrual age, between 10 and 50 years, entering the famed Sabarimala temple in Kerala. The decision created an uproar. Multiple review petitions were filed, heard and reserved for judgement. The court had held that the Sabarimala ban amounted to discrimination and even the practice of untouchability. Women had equal right to worship in a "public" temple.

The court had also played a key role in facilitating the entry of women into the sanctum of the Haji Ali dargah in Mumbai.

Justice Bobde asked whether a petition seeking right to equality can be filed against individuals and non-State actors like people who pray in and manage mosques. The fundamental right to equality under Article 14 of the Constitution was available only against the State, he observed.

"Is a mosque a 'State'? Is a church a 'State'? Is a temple a 'State'? We are not talking about the cement and mortar that make mosques but the people in them. Can the fundamental right of equality be imposed against another human being," he asked.

When the lawyer raised objections, the Bench asked him to read out Article 14. "You must be referring to a different Article 14 that we do not know about... The Article 14 starts with the words 'State shall not deny...' The relief is against the State only," Justice Bobde addressed the lawyer.

At one point, the lawyer said women were not allowed to enter mosques to pray despite several letters to imams. The petitioner had even sought police help to enter mosque, the lawyer claimed.

"You do not want someone to enter your house. Can that person then get police help to enter your house? If persons in mosques don't want you [women] to enter, can you agitate right to equality against them? Fundamental right to equality is only available against the State and not individuals," Justice Bobde retorted.

The Pune-based couple, Yasmeen Zuber Ahmad and Zuber Ahmad, told the court that the ban was illegal, unconstitutional and a violation of their dignity.

"There should not be any gender discrimination and Muslim women should be allowed to pray in all mosques, cutting across denominations. There is no such gender discrimination to offer worship in Mecca, the holy city. The faithful, both men and women, together circle the Kaaba," their petition said.

Presently, women are allowed to offer prayers at mosques under the Jamaat-e-Islami and Mujahid denominations. Women are barred from mosques under the predominant Sunni faction.

Even in mosques where women are allowed, there are separate entrances and enclosures for worship for men and women.

The petition argued that such a bar on Muslim women was "violative of Article 44 of the Constitution of India, which encourages the State to secure a Uniform Civil Code for all citizens, by eliminating discrepancies between various personal laws currently in force in the country".
EC rejects Opposition's demands concerning EVMs
Posted on 22nd May 2019
New Delhi: The Election Commission of India (EC) has rejected the demands of the opposition regarding Voter Verifiable Paper Audit Trail (VVPAT) on Wednesday.

The issue to change the protocol for counting was discussed by the Chief Election Commissioner Sunil Arora at his meeting with election commissioners Ashok Lavasa and Sushil Chandra.
---
Big PSU bank merger on cards if Modi wins 2019 election; PNB may merge these banks with itself
Posted on 22nd May 2019
The government is planning to merge state-run Punjab National Bank with two other PSU banks — Oriental Bank of Commerce, Andhra Bank and Allahabad Bank after the new administration is in place following the 2019 Lok Sabha elections, Reuters reported citing unidentified sources. This is in a bid to keep 5-6 larger banks in the country, which the ruling Narendra Modi-government has been advocating for some time.
---
YES Bank begins provisioning for exposure to ADAG, Essel group firms
Posted on 22nd May 2019
YES Bank, which has exposures to Anil Ambani's Reliance group and Essel group companies, has started making provisions for loans given to both entities. The provisioning began after rating agencies downgraded debt instruments of both groups.

YES Bank has an exposure of Rs 13,000 crore to Reliance group entities and another Rs 3,300 crore to Essel group companies, according to analysts.
---
Reliance tops IOC in sales
Posted on 22nd May 2019
Reliance Industries has toppled state-owned Indian Oil Corporation (IOC) to become the country's biggest company by revenue.

In 2018-19, Reliance has reported a turnover of Rs 6.23 lakh crore. In comparison, IOC posted a turnover of Rs 6.17 lakh crore for the fiscal, according to regulatory filings by the two companies.
---
Sensex rises over 150 points; Nifty tests 11,700
Posted on 22nd May 2019
The benchmark BSE Sensex jumped over 150 points in early trade on Wednesday, led by gains in oil and gas, banking and IT stocks, ahead of the general election results.

The 30-share index was trading 157.51 points, or 0.40%, higher at 39,127.31. In similar movement, the broader NSE Nifty rose 30.90 points, or 0.26%, to 11,740. In the previous session, the Sensex ended 382.87 points, or 0.97%, lower at 38,969.80, and the Nifty plunged 119.15 points, or 1.01%, to 11,709.10.
---
Be the first person to write a business review for SC admits plea to lift ban on Muslim women entering mosques