SC admits plea to lift ban on Muslim women entering mosques
Posted on 16th April 2019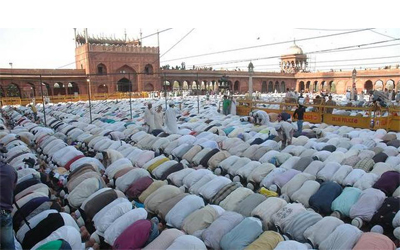 The Supreme Court on Tuesday admitted a plea of a couple to lift the prohibition on entry of Muslim women into mosques across the country.

"The only reason we may hear you is because of our judgement in Sabarimala temple," a Bench of Justices S.A. Bobde and S. Abdul Nazeer remarked orally. The court issued notice to the government and various bodies, including the National Commission for Women.

In September last, a Constitution Bench of the court lifted the age-old ban on women of menstrual age, between 10 and 50 years, entering the famed Sabarimala temple in Kerala. The decision created an uproar. Multiple review petitions were filed, heard and reserved for judgement. The court had held that the Sabarimala ban amounted to discrimination and even the practice of untouchability. Women had equal right to worship in a "public" temple.

The court had also played a key role in facilitating the entry of women into the sanctum of the Haji Ali dargah in Mumbai.

Justice Bobde asked whether a petition seeking right to equality can be filed against individuals and non-State actors like people who pray in and manage mosques. The fundamental right to equality under Article 14 of the Constitution was available only against the State, he observed.

"Is a mosque a 'State'? Is a church a 'State'? Is a temple a 'State'? We are not talking about the cement and mortar that make mosques but the people in them. Can the fundamental right of equality be imposed against another human being," he asked.

When the lawyer raised objections, the Bench asked him to read out Article 14. "You must be referring to a different Article 14 that we do not know about... The Article 14 starts with the words 'State shall not deny...' The relief is against the State only," Justice Bobde addressed the lawyer.

At one point, the lawyer said women were not allowed to enter mosques to pray despite several letters to imams. The petitioner had even sought police help to enter mosque, the lawyer claimed.

"You do not want someone to enter your house. Can that person then get police help to enter your house? If persons in mosques don't want you [women] to enter, can you agitate right to equality against them? Fundamental right to equality is only available against the State and not individuals," Justice Bobde retorted.

The Pune-based couple, Yasmeen Zuber Ahmad and Zuber Ahmad, told the court that the ban was illegal, unconstitutional and a violation of their dignity.

"There should not be any gender discrimination and Muslim women should be allowed to pray in all mosques, cutting across denominations. There is no such gender discrimination to offer worship in Mecca, the holy city. The faithful, both men and women, together circle the Kaaba," their petition said.

Presently, women are allowed to offer prayers at mosques under the Jamaat-e-Islami and Mujahid denominations. Women are barred from mosques under the predominant Sunni faction.

Even in mosques where women are allowed, there are separate entrances and enclosures for worship for men and women.

The petition argued that such a bar on Muslim women was "violative of Article 44 of the Constitution of India, which encourages the State to secure a Uniform Civil Code for all citizens, by eliminating discrepancies between various personal laws currently in force in the country".
Not 1 or 2, all 22 rifles fail to fire during gun salute to former Bihar CM Jagannath Mishra
Posted on 22nd August 2019
While former Bihar chief minister Jagannath Mishra mortal remains were being cremated with full state honour, 22 rifles carried by police personnel failed to fire a single shot on Wednesday.

Mishra's cremation took place at his ancestral village in Supaul district and it was attended by state Chief Minister Nitish Kumar, Deputy Chief Minister Sushil Kumar Modi, state Health Minister Mangal Pandey, among others.
---
Kia Motors makes India debut, launches Seltos SUV starting of Rs 9.69 lakh
Posted on 22nd August 2019
Korean auto major Kia Motors on Thursday made its debut in India with the launch of an SUV, Seltos, at an introductory price of Rs 9.69 lakh.

Seltos, a mid-sized SUV, is manufactured at the carmaker's Ananthpur plant in Andhra Pradesh. The model comes in both petrol and diesel variants.
---
Something grave happening in J&K that the government is trying to hide: Ghulam Nabi Azad
Posted on 22nd August 2019
Nine opposition parties on Thursday participated in a protest organised by the Dravida Munnetra Kazhagam, demanding the immediate release of political leaders detained in Kashmir.

"We must recognise that this is no democracy. If we fail to understand this, then we are living in a fool's paradise," former Chief Minister of J&K and Leader of Opposition in the Rajya Sabha Ghulam Nabi Azad said.
---
Govt using CBI, ED as 'revenge-seeking' units: Cong on Chidambaram's arrest
Posted on 22nd August 2019
The Congress on Thursday came down heavily on the BJP government over the arrest of P Chidambaram, accusing it of using the CBI and the ED as "personal revenge-seeking departments".

Senior Congress leader and former Finance Minister Chidambaram was arrested last night amid high drama by the CBI and he spent the night at a agency guest house.
---
Akshay Kumar 4th on Forbes highest-paid actors list, Dwayne Johnson on top
Posted on 22nd August 2019
National Award-winning actor Akshay Kumar has made it to the fourth position on the Forbes magazine's Worlds Highest-Paid Actors Of 2019 list.

According to the list on forbes.com Akshay has raked in $65 million.

Hollywood star Dwayne 'Rock' Johnson tops the Forbes list of the 10 highest-paid actors, collecting $89.4 million between June 1, 2018, and June 1, 2019.
---
Be the first person to write a business review for SC admits plea to lift ban on Muslim women entering mosques