GMR Aero Square: New hospitality way
Posted on 25th January 2019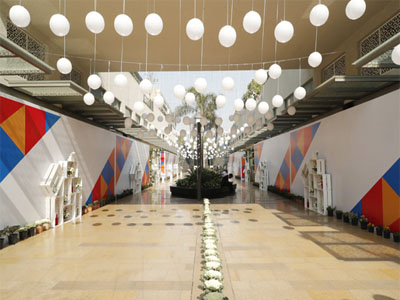 The GMR Group on Thursday announced the introduction of 'GMR Aero Square' in the Hospitality District of Delhi International Airport Limited. In a unique concept for Indian airport, GMR Aero Square offers easy access to the commercial hubs of Aerocity from public places. It has been developed amid lawns and landscape leading to Terminal 3 of the IGIA.

The Aero Square was unveiled on January 19 by Rajiv Nayan Choubey, Secretary, Ministry of Civil Aviation.

Aman Kapoor, CEO, Airport Land Development (ALD), GMR Group, said, "GMR Aerocity's Hospitality District caters to global business and leisure travelers. We offer corporate workplace, luxurious hotels, exclusive retail chains set amongst a well curated public realm. The Aerocity is no more just a Hotel district, but has now crafted its own unique identity. Recent events like Oktoberfest, India Mobile Congress, National Skill Competition, India Craft Week and Cirque De Soliel attracted an excellent response. Today, 'GMR Aero Square offers a very unique experience to all the Indians which is on par with any famous location overseas."

According to GMR officials, the Aero Square offers a unique pedestrian experiential walk and connects the Aerocity's Airport Metro Express station to all the major Hotels and Offices with Aerocity's Hospitality District through an experiential walkway. It not only connects all the buildings, but also provides a well-designed public space for everyone to enjoy.

It promotes an active lifestyle and enables access to open spaces, shaded areas for casual breakouts and many other amenities. The initiative aims to establish Aerocity as a vibrant tourist gateway and supports economic development while conserving the resources.
Amazon to close its online biz in China: Report
Posted on 23rd April 2019
Retail giant Amazon will withdraw its domestic e-commerce marketplace business in China, effective from July 18, but will keep operating its other business sections, including Amazon Web Services, Kindle e-books and cross-border operations.

Facing stiff competition from local online marketplace operators, including Alibaba, JD.com as well as the fast-growing Pinduoduo, Amazon's exit from e-commerce business would be the end of the company's 15 years of journey into the China market.
---
Microsoft employees decry Jack Ma backed '996' Chinese work culture
Posted on 23rd April 2019
San Francisco: A group of Microsoft employees has come forward to support Chinese tech workers on the gruelling '996' culture, writing a petition in defence of a trending GitHub repository that is being censored in China.

In a letter written on web-hosting service Github, owned by Microsoft, the employees have asked the company to keep the "996.ICU" GitHub repository uncensored, The Verge reported on Monday.
---
Bitcoin prices surge to a six-month high, after 35% gain this month
Posted on 23rd April 2019
Bitcoin prices jumped today to its highest in six months, pulling smaller cryptocurrencies up with it in a move that traders and analysts ascribed to technical forces with no apparent news catalysts at play.

Bitcoin, the biggest virtual coin, climbed as much as 4.5% in early trading to top $5,600 briefly, touching its highest since November 18.
---
Vicks, Gillette, Pantene maker P&G found guilty under GST anti-profiteering
Posted on 23rd April 2019
The GST profiteering investigation arm has found leading FMCG firm P&G India guilty of not passing on GST rate cut benefits to the tune of about Rs 250 crore by commensurate reduction in prices. Based on a complaint filed before the standing committee, the Directorate General of Anti profiteering (DGAP) investigated the books of accounts of P&G India pre and post November 15, 2017, and concluded that the consumer goods manufacturer has not lowered prices of certain of its products despite cut in GST rate to 18 per cent from 28 per cent.
---
Paytm takes cue from Alibaba, launches credit score check facility for app users
Posted on 23rd April 2019
Digital payments company Paytm has now enabled users to check their credit scores on its mobile app. Users can access the service by clicking on 'My Credit Score' under their user profile section. Paytm-backer Alibaba's financial services affiliate Ant Financial had launched a similar service called Sesame Credit in January 2015 for individual credit scores of customers and small business owners.
---
Be the first person to write a business review for GMR Aero Square: New hospitality way