Microsoft acquires AI startup to fuel AI capabilities
Posted on 21st June 2018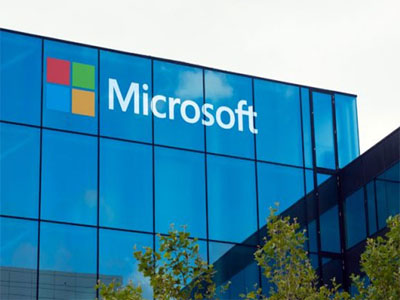 Microsoft announced on Wednesday that it has signed an agreement to acquire Bonsai, an artificial intelligence (AI) startup based in San Francisco, to boost its AI and machine learning capabilities. Microsoft said its acquisition of the small startup is "another major step forward in our vision to make it easier for developers and subject matter experts to build the "brains — machine learning model for autonomous systems of all kinds."

In its official blog, Microsoft said Bonsai has developed technology that will let experts with AI experience work with autonomous systems, reports Xinhua news agency. "The company is building a general-purpose, deep reinforcement learning platform especially suited for enterprises leveraging industrial control systems such as robotics, energy, HVAC, manufacturing and autonomous systems in general," said the tech giant. Bonsai's platform combined with rich simulation tools and reinforcement learning work in Microsoft Research will compose with its Azure Machine Learning running on the Azure Cloud with GPUs and Brainwave, it added.

Based in Berkeley, California, Bonsai was founded in 2014 and has around 42 employees. Bonsai said on its official website that it is building "the world's first deep reinforcement learning platform that empowers enterprises to build intelligence into real-world systems." It claims to have a team that "brings deep experience in machine learning and developer tools from the likes of Microsoft, Uber, Google and Apple." Bonsai CEO Mark Hammond worked for Microsoft as an engineer in the late 1990s and early 2000s. Microsoft bought another two small AI startup companies, SwiftKey and Maluuba, in 2016 and early 2017.
Bank of Baroda signs MoU with ten companies to loan Rs 500 cr
Posted on 21st July 2018
State-run Bank of Baroda signed a Memorandum of Understanding with ten companies including Uber, Oyo, Lava and Flipkart to provide loans to members in their supply chain like drivers and retailers in its efforts to raise its exposure to small enterprises.

"We want to target around 5,000 micro-entrepreneurs and spend at least Rs.500 crores in 2018-19," said P S Jeyakumar, CEO of Bank of Baroda.
---
IRCTC to charge portals a fee on each ticket's sale
Posted on 21st July 2018
MUMBAI: In a move that will make purchase of railway tickets from portals such as MakeMyTrip, Yatra, Paytm and Cleartrip more expensive, the Indian Railway Catering and Tourism Corporation (IRCTC) has said it will charge a fee of Rs 12 plus taxes on every ticket booked from service providers.
---
Sensex snaps two week winning streak, slips 45 points
Posted on 21st July 2018
The benchmark Sensex snapped its two week winning streaks to register small losses by 45.26 points to conclude at 36,496.37, while the broader Nifty managed to maintain the key 11,000-level to close at 11,010.20, losing a marginal 8.70 points.

Caution ruled roost during the week trade, weighed down by economic woes set-off by the surging June Wholesale price (WPI) inflation which shot-up to a four-year high to 5.77 per cent increased the chances of RBI hiking rates in its August meet.
---
New Rs 100 note poses fresh headaches for ATM operators
Posted on 21st July 2018
The Reserve Bank of India's (RBI) announcement launching a new series of 100-rupee denomination notes has been greeted with trepidation by the major companies engaged in the manufacture and supply of Automatic Teller Machines (ATMs) in the country.

Like the new post-demonetisation Rs 2,000, Rs 500, Rs 200 and the new Rs 50 notes and Rs 10 notes, even the new lavender-coloured Rs 100 is a tad smaller in size compared to the blue-coloured Rs 100 notes currently in circulation.
---
Facebook suspends US-based analytics firm over data concerns
Posted on 21st July 2018
After the Cambridge Analytica data scandal, Facebook has now suspended Boston-based data analytics company Crimson Hexagon over concerns that it harvested users' data.

According to a report in The Wall Street Journal late on Friday, the social media giant was investigating whether the analytics firm's "contracts with the US government, a Russian non-profit organisation tied to the Kremlin and the Turkish government violate the platform's policies".
---
Be the first person to write a business review for Microsoft acquires AI startup to fuel AI capabilities