TCS, Infosys push BSE IT index to new high; IT index rallies 24% in CY18
Posted on 18th June 2018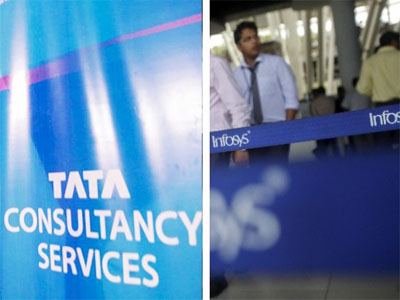 Shares of information technology (IT) companies were in focus on Monday with the S&P BSE IT index hitting record high. The raly comes on the back of a surge in prices of sector majors - Tata Consultancy Services (TCS) and Infosys - that hit a new high on the BSE in intra-day trade.

TCS hit a new high of Rs 1,871, up 1.6% on Monday, extending its Friday's 2.7% gain the BSE after the company's board approved a proposal to buy back up to 76 million equity shares worth about Rs 160 billion. The buyback price has been fixed at Rs 2,100 a share, a 14 per cent premium over its Friday's closing price of Rs 1,841 market price. The promoters' holding in the company now stands at 71.92%.

This is the second year in a row when the Mumbai-headquartered firm has decided to go ahead with a share buyback programme in a bid to return excess cash to its shareholders.

Infosys, too, hit a new high of Rs 1,291, up 0.8%, extending its previous day's 3.3% gain on the BSE.

At 09:38 am; the S&P BSE Index up 0.1% at 13,965, hit a record high of 14,071 in intra-day trade today. On comparison, the S&P BSE Sensex was trading 0.09% lower at 35,586 points.

Thus far in the current calendar year IT index has outperformed the market by surging 24% as compared to 4.6% rise in the benchmark index.

Sharekhan maintain Buy rating on TCS with a revised price target of Rs 2,100. "Upgrade in price target can be attributed to healthy growth outlook for the digital business, driven by recent deal wins and benefits from rupee depreciation. We have revised our estimates upwards by 4-5% for FY2019/FY2020 and expect earnings to report a 14% CAGR over FY2018-FY2020," the brokerage firm said in stock update.
Trump says India looking at something 'very strong' after Pulwama attack
Posted on 23rd February 2019
Asserting that there is a lot of problems between India and Pakistan, US President Donald Trump has said New Delhi is looking at something "very strong" in the wake of the Pulwama terror attack.

Forty CRPF personnel were killed and five injured on February 14 in one of the deadliest terror attacks in Jammu and Kashmir when a suicide bomber of Pakistan-based terror group Jaish-e-Mohammad (JeM) rammed a vehicle carrying a huge quantity of explosives into their bus in Pulwama district.
---
Pulwama attack: Crackdown on Jamaat-e-Islami J&K, top leaders detained
Posted on 23rd February 2019
Police swooped on Jamaat-e-Islami Jammu and Kashmir members in Kashmir during the intervening night of Friday and Saturday, and detained around two dozen of its cadres, including its chief Abdul Hamid Fayaz, officials said here.

Though police termed the detentions as routine, officials privy to the developments said this is the first major crackdown on the organisation that is part of the Tehreek-e-Hurriyat, a separatist conglomerate.
---
Lok Sabha polls: Lamp lighting and flag planting as Modi woos Indian voters
Posted on 23rd February 2019
Prime Minister Narendra Modi's party will reach out to the 220 million Indians it says directly benefited from his policies, as it seeks to counter growing disenchantment just weeks before elections are due.

The Bharatiya Janata Party will begin its outreach program Feb. 26, when leaders and workers will fan across the country to visit potential voters: from women who receive government-subsidized cooking gas to villagers who availed small, cheap loans under an official credit program.
---
Pulwama attack: Hundreds of Indians protest near Pak consulate in New York
Posted on 23rd February 2019
More than a hundred US-based Indians protested outside the Pakistan consulate in New York on Friday against the terror attack which was carried out by Pakistan-based terror outfit Jaish-e-Mohammed (JeM) on February 14 in South Kashmir's Pulwama.

Waving the tricolour, protesters raised slogans like Pakistan Murdabad, Global terror Pakistan, LeT Pakistan, 9/11 Pakistan, 26/11 Pakistan, Osama bin Laden Pakistan," amongst others.
---
Railways set to launch massive recruitment drive to fill up 131,000 posts
Posted on 23rd February 2019
Indian Railways is set to come out with an IndicativeNotice on Saturday, initiating the process for filling up 131,000 vacancies. The national transporter had recently faced criticism over the timing of the announcement of these vacancies, as the Election Commission expected to come out with a notification for Lok Sabha polls early next month.

The new set of job notification include recruitment of 100,000 staff in Level-1 (erstwhile Group-DCategories) for which online registration would open on March 12. The registration for remaining 30,000 will happen in three tranches. The eligible candidates for the first tranche of recruitments in Non-Technical Popular Categories can do registration of online applications from February 28.
---
Be the first person to write a business review for TCS, Infosys push BSE IT index to new high; IT index rallies 24% in CY18