DLF-GIC plans high-rise residential project in Delhi
Posted on 16th February 2018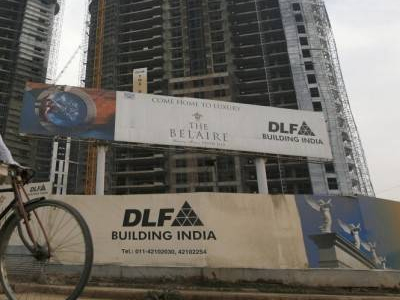 MUMBAI: In addition to their commercial leasing business engagement, Singapore sovereign wealth fund GIC and realty developer DLF are working on a high-rise residential project with saleable area of 7 million sq ft near central Delhi.

The project will be located in Moti Nagar area where DLF had bought two separate land parcels from DCM Shriram Consolidated and Lohia Group in 2007. The developer had paid Rs 1,582 crore for the 38-acre property known as Swatantra Bharat Mills and DCM Silk Mills.

DLF has already developed three phases of its residential project Capital Greens and a commercial tower on part of this land.

The project will be DLF's first residential project under the newly initiated business model of selling ready-to-move-in homes.

DLF and GIC had earlier agreed to set up two joint ventures for developing residential and commercial projects on these plots, and GIC was expected to invest Rs 1,990 crore between these two ventures.

"The project is right now in approval process. We will build and sell the entire project in phases. The first lot of apartments to be sold in this project will come out in the next 3-4 years," said a senior finance executive at DLF.

Marking a major shift in its business strategy, the company has recently taken a decision to sell only ready-to-move-in apartments from now on. "The company will focus on selling the completed inventory valued at about Rs 15,000 crores (net of pending construction payments) on its books over the next 3-4 years," DLF said in its investors' presentation released following the announcement of its earnings for the quarter ended December.

Promoters of DLF have sold their 33.34% stake in its rental arm DLF Cyber City Developers Ltd (DCCDL) to GIC for Rs 8,956 crore. The transaction was concluded on December 26, and the company now holds the balance 66.66% in DCCDL.

The DCCDL platform in joint venture with GIC has been designed to take the form of a business trust, a private Real Estate Investment Trust (REIT). Under the agreement with GIC, DLF can sell completed, yielding commercial projects to this joint venture or buildto-suite yielding commercial assets for this entity. It can also sell land parcels earmarked for commercial development in the near future to this joint venture.

DLF has already identified certain assets and land parcels for transfer to DCCDL and it is currently in early talks with GIC for the same, while it is aiming to complete the process in the financial year 2018-19.
Facebook plans to ban political ads before US Presidential election: Report
Posted on 11th July 2020
Facing intense criticism from all quarters, Facebook is planning to ban political ads on its platform like Twitter does as the US inches closer towards the presidential election in November, the media reported on Saturday.

According to a report in CNN Business citing sources, the potential ban on political ads to reduce the spread of disinformation has been under consideration since last fall.
---
RIL closes four Jio stake sale deals, receives Rs 30,062 cr from investors
Posted on 11th July 2020
After Facebook Inc, Reliance Industries has closed deals to sell a minority stake in its digital arm to four other investors, receiving a total of over Rs 30,062 crore.

In a regulatory filing, Reliance said it has closed the sale of 6.13 per cent stake in Jio Platforms with L Catterton, The Public Investment Fund, Silver Lake and General Atlantic.
---
Kolkata: Eden Gardens to be used as COVID-19 quarantine facility for police personnel
Posted on 11th July 2020
Kolkata Police can now use the galleries of Eden Gardens stadium as a makeshift quarantine facility, the Cricket Association of Bengal (CAB) on Friday said.

A meeting at Kolkata Police Headquarter, Lal Bazaar, took place at the Chamber of Special Commissioner Jawed Shamim. It was attended by CAB president Avishek Dalmiya.
---
India sees 27,114 new coronavirus cases, tally crosses 8 lakh-mark
Posted on 11th July 2020
In another highest single-day spike of coronavirus cases, India on Saturday reported 27,114 new cases in the last 24 hours. As many as 519 deaths were reported during this period.

With this, the country's total count has crossed the eight lakh-mark.

The total number of positive cases in the country stands at 8,20,916, including 2,83,407 active cases, 5,15,386 cured/discharged/migrated and 22,123 deaths, according to the Ministry of Health and Family Welfare.
---
'Vikas Dubey did wrong, deserved this fate', says wife Richa at funeral
Posted on 11th July 2020
Richa Dubey, the wife of slain gangster Vikas Dubey who was killed in an encounter by the police on Friday morning, said that her husband did wrong and deserved this fate.

Yes yes yes. Vikas did wrong and he deserved this fate she said, in an agitated tone when reporters asked her whether Vikas deserved this fate.
---
Be the first person to write a business review for DLF-GIC plans high-rise residential project in Delhi