BSNL offers new prepaid plan with 1GB data per day, free calling for 6 months at this rate
Posted on 14th February 2018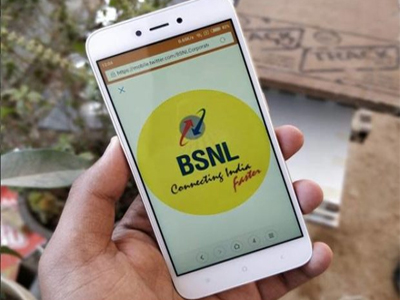 One of India's leading telecom operator, BSNL has announced a new prepaid plan dubbed 'Maximum' on the occasion of Maha Shivaratri. Under this new prepaid plan which is priced at Rs 999, BSNL offers 1GB data per day and unlimited calling for six months. This new Maximum plan is applicable across all the circles, except NE, Jammu & Kashmir and Assam. It offers voice calling, SMS and data benefits like every other tariff plan launching these days from all the operators. However, the validity of this BSNL prepaid plan is more than that of plans from Airtel and Reliance Jio.

According to the details provided by the telco, the new BSNL prepaid offer will provide unlimited data capped at 1GB per day, unlimited free voice calls including roaming calls excluding Mumbai and Delhi and 100 SMS per day. After the completion of 1GB data per day, the internet speed will be reduced to 40 Kbps, barely enough to send and receive WhatsApp text messages.

This plan will directly compete with Airtel and Reliance Jio. Both the telecom have prepaid plans priced at Rs 999 but, with less validity. Airtel is offering unlimited voice calls including national roaming calls, 100 local and STD SMS per day, 60GB of data on all handsets for 90 days.

Meanwhile, Jio offers similar benefits of unlimited roaming calls without any limit, 100 SMS per day and 60GB of data for 90 days. This gives BSNL an upper hand on its competitors as it provides 180 GB data for first 180 days along with unlimited calls and SMS.

Apart from this, BSNL has other prepaid plans priced between Rs 198 and Rs 561. Under its Rs 549 plan, BSNL offers 2GB mobile data per day along with other benefits for a period of 60 days. This means that the users get 120 GBs in the recharge pack priced at Rs 549. Under its Rs 198 prepaid plan, BSNL offers 1 GB of data per day for a validity period of 24 days, according to the telecom company's website. After 24 days, the data is charged at 3 paise per 10 KBs.
Infosys deploys digital banking solution at Australian Military Bank
Posted on 25th September 2018
New Delhi: IT major Infosys on Tuesday said it has deployed its Finacle banking solutions suite for Australian Military Bank (AMB).

The comprehensive digital banking solution stack has been implemented in a fully software-as-a-service (SaaS) model, hosted out of Infosys datacentres in the country, Infosys said in a statement.
---
---
A tale of two seats on Air India 184 - one of the longest long-hauls there is
Posted on 25th September 2018
'Are you sure you want me to book you on a return ticket on Air India?' Anurag, my ever-so-helpful and slightly-alarmed travel agent asked. I said yes. 'It's not all as bad as you make it out to be.' I'd been on Air India flights before, that too economy, how bad could business class be? It is our national carrier, they fly 777s and 787s - business class promises fully flat seats where you could expect to be relatively comfortable and even get in a night's sleep.
---
TCS will conduct online test to hire engineer graduates
Posted on 25th September 2018
Attention all engineer graduates! If you want to work with TCS, then from now nwards you are required to clear an online test. According to a Times of India report, the tech firm is all set to digitize the hiring process. TCS is mulling over dropping the process of visiting campuses and hiring from colleges directly to be more efficient.
---
Indian Oil sees India's oil demand surging to 500 mn tonnes per yr by 2040
Posted on 25th September 2018
India's crude oil demand is forecast to grow to 500 million tonnes per year by 2040, but persistent increases in oil prices might act as a dampener for the rate of growth, Partha Ghosh, an executive director at Indian Oil Corp said on Tuesday.

That would be equivalent to around 10 million barrels per day (bpd), up from about 4.7 million bpd in 2017.
---
Be the first person to write a business review for BSNL offers new prepaid plan with 1GB data per day, free calling for 6 months at this rate