BSNL offers new prepaid plan with 1GB data per day, free calling for 6 months at this rate
Posted on 14th February 2018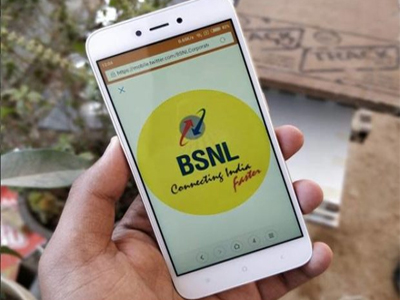 One of India's leading telecom operator, BSNL has announced a new prepaid plan dubbed 'Maximum' on the occasion of Maha Shivaratri. Under this new prepaid plan which is priced at Rs 999, BSNL offers 1GB data per day and unlimited calling for six months. This new Maximum plan is applicable across all the circles, except NE, Jammu & Kashmir and Assam. It offers voice calling, SMS and data benefits like every other tariff plan launching these days from all the operators. However, the validity of this BSNL prepaid plan is more than that of plans from Airtel and Reliance Jio.

According to the details provided by the telco, the new BSNL prepaid offer will provide unlimited data capped at 1GB per day, unlimited free voice calls including roaming calls excluding Mumbai and Delhi and 100 SMS per day. After the completion of 1GB data per day, the internet speed will be reduced to 40 Kbps, barely enough to send and receive WhatsApp text messages.

This plan will directly compete with Airtel and Reliance Jio. Both the telecom have prepaid plans priced at Rs 999 but, with less validity. Airtel is offering unlimited voice calls including national roaming calls, 100 local and STD SMS per day, 60GB of data on all handsets for 90 days.

Meanwhile, Jio offers similar benefits of unlimited roaming calls without any limit, 100 SMS per day and 60GB of data for 90 days. This gives BSNL an upper hand on its competitors as it provides 180 GB data for first 180 days along with unlimited calls and SMS.

Apart from this, BSNL has other prepaid plans priced between Rs 198 and Rs 561. Under its Rs 549 plan, BSNL offers 2GB mobile data per day along with other benefits for a period of 60 days. This means that the users get 120 GBs in the recharge pack priced at Rs 549. Under its Rs 198 prepaid plan, BSNL offers 1 GB of data per day for a validity period of 24 days, according to the telecom company's website. After 24 days, the data is charged at 3 paise per 10 KBs.
Nirav Modi scam: Diamond traders now courting firms with long-term credit
Posted on 21st March 2018
In the aftermath of the Rs 129-billion fraud at Punjab National Bank (PNB) involving Nirav Modi and Gitanjali Gems, traders of loose diamonds are now shifting to organised sectoral players with deeper pockets for credit offers to consumers.

Since most banks have tightened their lending to diamond merchants and others are in the process of doing so, many medium and small diamond dealers are approaching large players for credit facility within the industry.
---
Facebook places full-page ads in Mexican newspapers warning about fake news
Posted on 21st March 2018
After coming under fire for its role in the 2016 U.

S. election, Facebook Inc is taking steps to prevent what it calls fake news during Mexico's presidential campaign.

The social-networking giant on Tuesday placed full-page ads in prominent Mexican newspapers including El Financiero under the title "Tips to Detect Fake News." The company's logo appears on the top left corner.
---
2G case: Delhi HC issues notice to Raja, Kanimozhi and others
Posted on 21st March 2018
The Delhi High Court on Wednesday sought response from A. Raja, DMK MP Kanimozhi and 17 others on appeals by CBI and Enforcement Directorate (ED) challenging a Special CBI Court verdict acquitting all of them in connection with the 2G spectrum allocation case.

Justice S.P. Garg also directed one of the accused Dynamix Balwa group of companies and its associates to maintain status quo with regard to properties worth ₹ 223.55 crores, which was attached by Enforcement Directorate (ED) during the trial as 'proceeds of crime' till the next date of hearing on May 25.
---
Jayalalithaa did not heed advice to go to hospital, says Sasikala
Posted on 21st March 2018
It was at 9.30 p.m. on September 22, 2016, that then Tamil Nadu Chief Minister Jayalalithaa called out for help. According to her aide V.K. Sasikala, Jayalalithaa had indicated she was unwell while she was in the bathroom situated on the first floor of her Poes Garden residence, after having brushed her teeth.

In an affidavit filed before the Justice A. Arumughaswamy Commission (probing Jayalalithaa's death), Sasikala provides an account of what transpired at Jayalalithaa's residence before she was rushed to hospital.
---
ICICI Bank raises Rs 40 billion via bonds, money to be used to fund growth
Posted on 21st March 2018
Private sector lender ICICI Bank on Tuesday said it has raised Rs 40 billion from bonds to fund growth.

"The Committee of Executive Directors of the bank at its meeting held today has approved the allotment of 40,000 Basel III compliant unsecured subordinated perpetual Additional Tier 1 bonds in the nature of debentures aggregating Rs 4000 crore (40 billion) on private placement basis," ICICI Bank said in a regulatory filing to stock exchanges.
---
Be the first person to write a business review for BSNL offers new prepaid plan with 1GB data per day, free calling for 6 months at this rate