Bitcoin finds a bottom as risk aversion grips global markets
Posted on 12th February 2018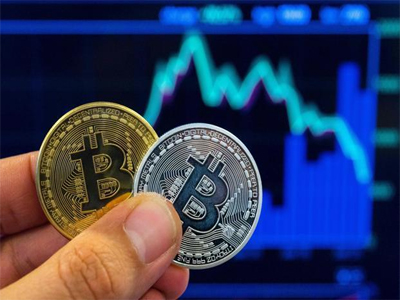 New York: What's supposed to be the most volatile asset in the universe is proving to be a bastion of stability compared with wild swings and carnage in global equities this week.

Bitcoin clawed its way back from the four-month low of $5,922 it touched on Tuesday, rebounding 53% to $9,069. The S&P 500 Index and the Dow Jones Industrial Average both fell more than 5% this week, wiping out gains for the year. Emerging markets stocks and currencies also plunged, while shorter maturity US Treasuries climbed as investors fled from risky assets to safe-havens.

Bitcoin's supporters are quick to extol the cryptocurrency' virtues as an asset that's uncorrelated to the broader market—independent from any single country, company or central bank—which can serve as a haven in times of market turmoil. And while that turmoil can usually be found in bitcoin prices and headlines, this week US equities are beating the largest cryptocurrency on that field.

Since the drop below $6,000, bitcoin has been on a steady climb, causing volatility measures on the digital asset to stabilize while the sell-off in the S&P 500 triggered the biggest jump on the Chicago Board Options Exchange Volatility Index ever.

The "do no harm" approach to cryptocurrencies taken by US regulators at a Senate hearing Tuesday sparked the rebound, while negative headlines from regulatory crackdowns in China and South Korea that have weighed on prices subsided.

The 70% slump from bitcoin's high of almost $20,000 has prompted finance heavy weights to say the crypto bubble had finally popped. Judging from price action this week at least, maybe those calls were premature.
HDFC puts out notice to auction family house of Sanjay Chandra
Posted on 17th October 2018
New Delhi: As their real estate empire crumbles, Chandras of Unitech may even lose their family home to lenders. Mortgage lender HDFC has put out notices to auction Sanjay Chandra's house in the upmarket Hauz Khas area in South Delhi.

Unitech managing director Sanjay Chandra grew up in the Mayfair Garden house in Hauz Khas where his mother ran a clinic.
---
Paytm Money appoints Cyrus Khambata to its board
Posted on 17th October 2018
New Delhi: Paytm Money, the wealth management unit of One97 Communications Ltd., on Wednesday said it had appointed former executive director of Central Depository Services Ltd. (CSDL India) Cyrus Khambata to its board of directors.

Khambata, considered an industry veteran in capital markets, has previously served as the managing director of CDSL Ventures and CDSL Insurance Depository.
---
Tata Motors eyes tie-ups with Ola, Uber with new shared mobility platform
Posted on 17th October 2018
New Delhi: Tata Motors Ltd has created a separate division to explore ways to tap its entire range of passenger and commercial vehicles for offering shared mobility solutions, said two people aware of the development. Named Mobility Innovations Hub, the new department is headed by Pankaj Jhunja, formerly with Tata Technologies, said the people cited above, who did not want to be named.
---
Sensex jumps 267 points on strong earnings and global cues
Posted on 17th October 2018
The equity benchmark Sensex rallied for the fourth straight session Wednesday, and jumped 267 points, on encouraging second quarter earnings by tech major Infosys and positive global cues.

The 30- share Sensex soared 267.26 points, or 0.76 per cent, to 35,429.74. It had rallied 1,161 points in the previous three sessions.
---
RIL pips TCS again to become India's most valued firm; Mukesh Ambani-led firm's rise so far
Posted on 17th October 2018
Billionaire Mukesh Ambani-controlled Reliance Industries Ltd (RIL) on Tuesday pipped the information technology (IT) giant Tata Consultancy Services (TCS) to become the country's most valued firm by market capitalisation. As per Tuesday's close, Reliance Industries' market capitalisation was recorded at Rs 7,37,576.57 crore on the Bombay Stock Exchange (BSE), up Rs 1,471.26 crore from that of Tata Consultancy's market capitalisation of 7,36,105.31 crore on Tuesday, data available with the stock exchanged showed.
---
Be the first person to write a business review for Bitcoin finds a bottom as risk aversion grips global markets