Bitcoin finds a bottom as risk aversion grips global markets
Posted on 12th February 2018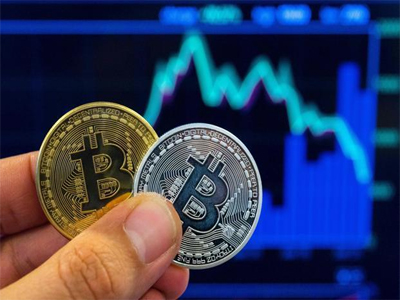 New York: What's supposed to be the most volatile asset in the universe is proving to be a bastion of stability compared with wild swings and carnage in global equities this week.

Bitcoin clawed its way back from the four-month low of $5,922 it touched on Tuesday, rebounding 53% to $9,069. The S&P 500 Index and the Dow Jones Industrial Average both fell more than 5% this week, wiping out gains for the year. Emerging markets stocks and currencies also plunged, while shorter maturity US Treasuries climbed as investors fled from risky assets to safe-havens.

Bitcoin's supporters are quick to extol the cryptocurrency' virtues as an asset that's uncorrelated to the broader market—independent from any single country, company or central bank—which can serve as a haven in times of market turmoil. And while that turmoil can usually be found in bitcoin prices and headlines, this week US equities are beating the largest cryptocurrency on that field.

Since the drop below $6,000, bitcoin has been on a steady climb, causing volatility measures on the digital asset to stabilize while the sell-off in the S&P 500 triggered the biggest jump on the Chicago Board Options Exchange Volatility Index ever.

The "do no harm" approach to cryptocurrencies taken by US regulators at a Senate hearing Tuesday sparked the rebound, while negative headlines from regulatory crackdowns in China and South Korea that have weighed on prices subsided.

The 70% slump from bitcoin's high of almost $20,000 has prompted finance heavy weights to say the crypto bubble had finally popped. Judging from price action this week at least, maybe those calls were premature.
Enough assets to meet any liability, says scam-hit PNB
Posted on 22nd February 2018
MUMBAI: State-owned PNB on Thursday said it has followed lawful avenues to recover its dues following Rs 11,400 crore swindling of funds allegedly by jewellery designer Nirav Modi and associates.

The country's second largest public sector lender also reaffirmed that it has enough assets to meet any liability.
---
Telecom Minister Manoj Sinha says there's no proposal to merge BSNL, MTNL
Posted on 22nd February 2018
Telecom Minister Manoj Sinha today said there are no plans at present to merge BSNL and MTNL, but asserted that the strategic plan outlined for promoting synergy among state-owned telecom firms will strengthen and benefit both the organisations. "There is no thinking in government on merging the two. But we are taking steps to ensure that collaboration between MTNL (Mahanagar Telephone Nigam Ltd) and BSNL (Bharat Sanchar Nigam Ltd) strengthens and benefits both the organisations," Sinha said.
---
Sebi may tighten AIF regulations to better monitor the source of funding
Posted on 22nd February 2018
The Securities and Exchange Board of India (Sebi) plans to tighten present Alternative Investment Funds (AIF) regulations to better monitor the source of funding and their end use.

According to sources, Sebi may check the anti-money laundering policies implemented by AIFs and examine the sanctity of any back-end arrangements an AIF may have with its investors, whereby money raised in AIFs is invested back in entities owned by the investors.
---
Qualcomm, Microsoft offer 'always connected' PCs with smartphone features
Posted on 22nd February 2018
Global chip-maker Qualcomm Technologies and Microsoft have collaborated with leading retailers from across the world to offer new "always connected" Windows 10 PCs powered by the Qualcomm Snapdragon Mobile PC Platform.

Retailers in the US, Australia, China, Italy, France and the UK will offer a range of new Windows 10 PCs from Asus, HP and Lenovo, the companies announced on Thursday.
---
Sensex slips 144 points ahead of F&O expiry
Posted on 22nd February 2018
MUMBAI: The benchmark BSE Sensex fell over 144 points in early trade as investors turned cautious ahead of February derivatives expiry amid sustained foreign fund outflows and mixed Asian cues.

The 30-share index, which had gained 141.27 points in the previous session, slipped 144.23 points, or 0.42 per cent, to 33,700.63.
---
Be the first person to write a business review for Bitcoin finds a bottom as risk aversion grips global markets