Bitcoin finds a bottom as risk aversion grips global markets
Posted on 12th February 2018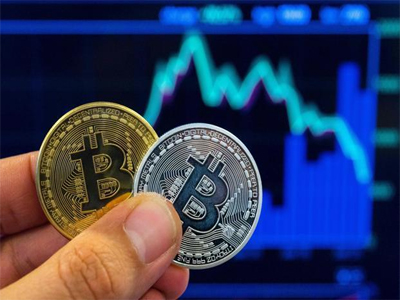 New York: What's supposed to be the most volatile asset in the universe is proving to be a bastion of stability compared with wild swings and carnage in global equities this week.

Bitcoin clawed its way back from the four-month low of $5,922 it touched on Tuesday, rebounding 53% to $9,069. The S&P 500 Index and the Dow Jones Industrial Average both fell more than 5% this week, wiping out gains for the year. Emerging markets stocks and currencies also plunged, while shorter maturity US Treasuries climbed as investors fled from risky assets to safe-havens.

Bitcoin's supporters are quick to extol the cryptocurrency' virtues as an asset that's uncorrelated to the broader market—independent from any single country, company or central bank—which can serve as a haven in times of market turmoil. And while that turmoil can usually be found in bitcoin prices and headlines, this week US equities are beating the largest cryptocurrency on that field.

Since the drop below $6,000, bitcoin has been on a steady climb, causing volatility measures on the digital asset to stabilize while the sell-off in the S&P 500 triggered the biggest jump on the Chicago Board Options Exchange Volatility Index ever.

The "do no harm" approach to cryptocurrencies taken by US regulators at a Senate hearing Tuesday sparked the rebound, while negative headlines from regulatory crackdowns in China and South Korea that have weighed on prices subsided.

The 70% slump from bitcoin's high of almost $20,000 has prompted finance heavy weights to say the crypto bubble had finally popped. Judging from price action this week at least, maybe those calls were premature.
---
Amazon helps Shenzhen ex-Googler turn mom's money into a billion
Posted on 21st May 2018
After Steven Yang left his coveted job at Google, he asked his mother whether he should take venture-capital money to fund his business idea.

If his online consumer-electronics enterprise was a risky bet, she told him, go with the venture capitalists. But if building the business into something great was his destiny, he instead should use her money from a pharmaceutical career in China.
---
L&T Hydrocarbon Engineering bags orders for setting up two fertilizer plants in Bihar, Jharkhand
Posted on 21st May 2018
L&T Hydrocarbon Engineering in consortium with TechnipFMC has bagged two orders from Hindustan Urvarak and Rasayan Ltd for setting up two fertilizer plants. "L&T Hydrocarbon Engineering (LTHE), a wholly owned subsidiary of… Larsen & Toubro Ltd, in consortium with TechnipFMC, has won two significant orders from Hindustan Urvarak and Rasayan Ltd (HURL), a joint venture company of IOCL, NTPC, CIL, FCIL and HFCL," Larsen and Toubro (L&T) said in a BSE filing.
---
Ashok Leyland extends fall on volume growth concerns; stock ends 10% lower
Posted on 21st May 2018
Shares of Ashok Leyland have declined nearly 10% to Rs 133.75, extending their 4% fall on the BSE on Friday, on concerns of truck volume growth in current fiscal on account of a partial overloading ban relaxation in Uttar Pradesh (UP) from last month.

In the past two weeks, Ashok Leyland has underperformed the market by falling over 18% as compared to 1.2% decline in the S&P BSE Sensex. The stock hit a record high of Rs 168 on May 8, 2018 in intra-day trade.
---
Hyundai India profit up 6% in 2017 to Rs 22 bn, growth similar to Maruti's
Posted on 21st May 2018
Korean car maker Hyundai, the second-biggest player in the domestic car market, expanded its profit by six per cent in the 2017 calendar year (CY) to Rs 22 billion. The profit increase is identical to market leader Maruti Suzuki's, which saw a five per cent increase in profit for the year ended March 31, 2018. Hyundai's sales revenue also grew by six per cent in 2017.
---
Be the first person to write a business review for Bitcoin finds a bottom as risk aversion grips global markets