Bitcoin finds a bottom as risk aversion grips global markets
Posted on 12th February 2018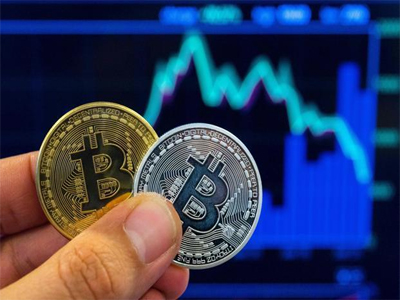 New York: What's supposed to be the most volatile asset in the universe is proving to be a bastion of stability compared with wild swings and carnage in global equities this week.

Bitcoin clawed its way back from the four-month low of $5,922 it touched on Tuesday, rebounding 53% to $9,069. The S&P 500 Index and the Dow Jones Industrial Average both fell more than 5% this week, wiping out gains for the year. Emerging markets stocks and currencies also plunged, while shorter maturity US Treasuries climbed as investors fled from risky assets to safe-havens.

Bitcoin's supporters are quick to extol the cryptocurrency' virtues as an asset that's uncorrelated to the broader market—independent from any single country, company or central bank—which can serve as a haven in times of market turmoil. And while that turmoil can usually be found in bitcoin prices and headlines, this week US equities are beating the largest cryptocurrency on that field.

Since the drop below $6,000, bitcoin has been on a steady climb, causing volatility measures on the digital asset to stabilize while the sell-off in the S&P 500 triggered the biggest jump on the Chicago Board Options Exchange Volatility Index ever.

The "do no harm" approach to cryptocurrencies taken by US regulators at a Senate hearing Tuesday sparked the rebound, while negative headlines from regulatory crackdowns in China and South Korea that have weighed on prices subsided.

The 70% slump from bitcoin's high of almost $20,000 has prompted finance heavy weights to say the crypto bubble had finally popped. Judging from price action this week at least, maybe those calls were premature.
Jio GigaFiber effect: BSNL now offers 35GB data per day to Bharat Fiber FTTH subscribers
Posted on 21st January 2019
BSNL recently announced Bharat Fiber, which is a fibre-to-the-home (FTTH) internet service for its broadband customers. Taking on rivals like Jio GigaFiber and Airtel V-Fiber, the service is said to offer 35GB data per day at as low as Rs 1.1 per GB. To make sure that users can express their interest in the new service, BSNL has commenced bookings for Bharat Fiber via its online portal.
---
Maruti Suzuki is looking to back your next big startup; here's why?
Posted on 21st January 2019
Maruti Suzuki, India's largest car manufacturer today announced the launch of its innovation program for early-stage startups in the automobile and mobility space called Mobility & Automobile Innovation Lab (MAIL).

The company has partnered with Gurugram-based startup accelerator GHV Accelerator to tap on innovative startups with solutions that it believes are futuristic and customer oriented.
---
Kotak Mahindra Bank consolidated Q3 net up 13.5% to Rs 1,844 crore
Posted on 21st January 2019
Private lender Kotak Mahindra Bank reported 13.5 per cent rise in its third quarter (Q3) consolidated net profit on account of higher interest and fee income. The asset quality of the bank's loan book also improved during the quarter.

Profit after tax at the consolidated level rose to Rs 1,844 crore for the quarter ended December 2018 (Q3FY19), from Rs 1,624 crore in the year-ago period (Q3FY18).
---
LIC completes the acquisition of 51% controlling stake in IDBI Bank
Posted on 21st January 2019
IDBI Bank Monday said insurance behemoth LIC has completed acquisition of 51 per cent controlling stake in the bank, making it the lender's majority shareholder.

"The deal, conceptualised in June 2018, is envisaged as a win-win situation for both IDBI Bank and LIC with an opportunity to create enormous value for shareholders, customers & employees of both entities through mutual synergies," IDBI Bank said in a BSE filing.
---
Sebi interpretation does not permit smaller L&T buyback
Posted on 21st January 2019
Shares of Larsen & Toubro Ltd opened over 3% lower on Monday after market regulator Securities Exchange Board of India denied the company permission for its first ever share buyback plan. However, the scrip pared all the losses and was trading 0.4% higher.

The stock had opened at ₹1,275 a share, or 3.3% lower than its Friday close. At 9.56 am, L&T was trading at ₹1,324 on the BSE, up 0.44% from its previous close. The Sensex rose 0.7% to 36,652.26 points.
---
Be the first person to write a business review for Bitcoin finds a bottom as risk aversion grips global markets