Indian engineer part of team awarded sci-tech Oscar
Posted on 12th February 2018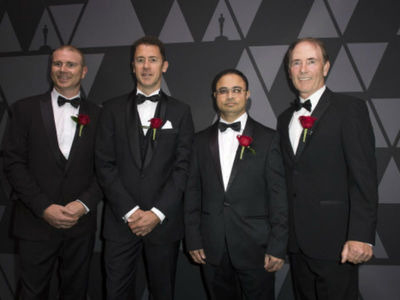 MUMBAI: An engineer raised in Mumbai, Vikas Sathaye, was part of the team that bagged the scientific and engineering award at the Oscars 2018 Scientific and Technical Awards on Saturday. The four-member team was honoured at the Beverly Hills ceremony "for the concept, design, engineering and implementation of the Shotover K1 Camera System", which the Academy of Motion Picture Arts and Sciences describes as a "six-axis stabilised aerial camera mount" that has an "enhanced ability to frame shots while looking straight down".

In his statement to the press, Sathaye said that in 2009 he joined a new company called Shotover Camera Systems in Queenstown, New Zealand, which is where he worked on the aerial mount. "One of the reasons to start this company in Queenstown was the natural beauty and stunning scenery which attract a lot of film producers and directors," he said.

"The camera mount gets attached to the base of a helicopter, which carries the camera and lens. Its primary function is to eliminate any vibration from reaching the camera and thus getting steady footage. The other function for the camera mount is to move the camera head in the desired direction as required by the camera operator, who sits inside the helicopter and uses a joystick to control the camera head movement," Sathaye explained.

The aerial mount or gimbal used for 3D aerial filming was named Shotover K1. Sathaye, born in Pune in 1967, grew up in Mumbai. After school, Sathaye completed a diploma in instrumentation from VPM's polytechnic, Thane, followed by a BE in electronics from VIT Pune, and an MTech in instrumentation from IISc.

He taught at Pune's Cummins College of Engineering for Women for seven years, during which he was sent to Italy for a project with Fiat for three months. It was this experience that inspired him to enter the field of embedded software technology.
Microsoft, Apollo Hospitals build AI-powered platform to predict cardiovascular disease risk score
Posted on 17th August 2018
Microsoft India and Apollo Hospitals have partnered to build an artificial intelligence-powered platform, designed to predict the risk of Cardiovascular Disease (CVD) in the Indian population. Under the collaboration, which is part of Microsoft's AI Network for Healthcare initiative, the two entities have launched an AI-powered Cardiovascular Disease Risk Score API (application program interface)
---
Malaysia's Axiata relinquishes major rights in Idea Cellular ahead of Vodafone merger
Posted on 17th August 2018
Idea Cellular today said Axiata, whose current holding in the company stands at over 16 per cent, has relinquished "all major rights" including that of nominating a director on the board. Idea's statement comes at a time when the telecom firm has received the government's approval for merger with Vodafone. The combination is set to create the country's largest mobile phone operator worth more than USD 23 billion with a 35 per cent market share.
---
BPCL to keep Mumbai refinery shut for at least 2 months after fire: Source
Posted on 17th August 2018
India's Bharat Petroleum Corp Ltd will keep a secondary unit at its 120,000 barrels-per-day (bpd) Mumbai refinery offline for at least two months following a fire last week, two industry sources said on Friday.

When contacted, a BPCL spokesman could not immediately confirm the duration of the shutdown, saying that a decision will be made in one to two days.
---
Ashok Leyland bags order for 300 double-decker buses from Bangladesh
Posted on 17th August 2018
Ashok Leyland has won an order of 300 double-decker buses from Bangladesh Road Transport Corporation (BRTC).

Leyland has to deliver the order within eight months.

Vinod K. Dasari, Managing Director of Ashok Leyland, said Bangladesh is one of the key export markets and this order further strengthens the company's position.
---
ITC hits fresh 52-week high; stock surges 17% in one month
Posted on 17th August 2018
Shares of ITC hit a fresh 52-week high of Rs 315, up 2.5% on the BSE in early morning trade, extending gains of the past 4 weeks after the company's June quarter net profit beat the Street estimates.

The stock of fast moving consumer goods (FMCG) company was the largest gainer among the S&P BSE Sensex at 09:38 am. It outperformed the market by surging 17% in past one month, as compared to a 4% rise in the benchmark index.
---
Be the first person to write a business review for Indian engineer part of team awarded sci-tech Oscar