Indian engineer part of team awarded sci-tech Oscar
Posted on 12th February 2018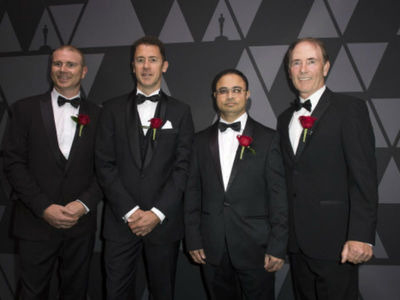 MUMBAI: An engineer raised in Mumbai, Vikas Sathaye, was part of the team that bagged the scientific and engineering award at the Oscars 2018 Scientific and Technical Awards on Saturday. The four-member team was honoured at the Beverly Hills ceremony "for the concept, design, engineering and implementation of the Shotover K1 Camera System", which the Academy of Motion Picture Arts and Sciences describes as a "six-axis stabilised aerial camera mount" that has an "enhanced ability to frame shots while looking straight down".

In his statement to the press, Sathaye said that in 2009 he joined a new company called Shotover Camera Systems in Queenstown, New Zealand, which is where he worked on the aerial mount. "One of the reasons to start this company in Queenstown was the natural beauty and stunning scenery which attract a lot of film producers and directors," he said.

"The camera mount gets attached to the base of a helicopter, which carries the camera and lens. Its primary function is to eliminate any vibration from reaching the camera and thus getting steady footage. The other function for the camera mount is to move the camera head in the desired direction as required by the camera operator, who sits inside the helicopter and uses a joystick to control the camera head movement," Sathaye explained.

The aerial mount or gimbal used for 3D aerial filming was named Shotover K1. Sathaye, born in Pune in 1967, grew up in Mumbai. After school, Sathaye completed a diploma in instrumentation from VPM's polytechnic, Thane, followed by a BE in electronics from VIT Pune, and an MTech in instrumentation from IISc.

He taught at Pune's Cummins College of Engineering for Women for seven years, during which he was sent to Italy for a project with Fiat for three months. It was this experience that inspired him to enter the field of embedded software technology.
Enough assets to meet any liability, says scam-hit PNB
Posted on 22nd February 2018
MUMBAI: State-owned PNB on Thursday said it has followed lawful avenues to recover its dues following Rs 11,400 crore swindling of funds allegedly by jewellery designer Nirav Modi and associates.

The country's second largest public sector lender also reaffirmed that it has enough assets to meet any liability.
---
Telecom Minister Manoj Sinha says there's no proposal to merge BSNL, MTNL
Posted on 22nd February 2018
Telecom Minister Manoj Sinha today said there are no plans at present to merge BSNL and MTNL, but asserted that the strategic plan outlined for promoting synergy among state-owned telecom firms will strengthen and benefit both the organisations. "There is no thinking in government on merging the two. But we are taking steps to ensure that collaboration between MTNL (Mahanagar Telephone Nigam Ltd) and BSNL (Bharat Sanchar Nigam Ltd) strengthens and benefits both the organisations," Sinha said.
---
Sebi may tighten AIF regulations to better monitor the source of funding
Posted on 22nd February 2018
The Securities and Exchange Board of India (Sebi) plans to tighten present Alternative Investment Funds (AIF) regulations to better monitor the source of funding and their end use.

According to sources, Sebi may check the anti-money laundering policies implemented by AIFs and examine the sanctity of any back-end arrangements an AIF may have with its investors, whereby money raised in AIFs is invested back in entities owned by the investors.
---
Qualcomm, Microsoft offer 'always connected' PCs with smartphone features
Posted on 22nd February 2018
Global chip-maker Qualcomm Technologies and Microsoft have collaborated with leading retailers from across the world to offer new "always connected" Windows 10 PCs powered by the Qualcomm Snapdragon Mobile PC Platform.

Retailers in the US, Australia, China, Italy, France and the UK will offer a range of new Windows 10 PCs from Asus, HP and Lenovo, the companies announced on Thursday.
---
Sensex slips 144 points ahead of F&O expiry
Posted on 22nd February 2018
MUMBAI: The benchmark BSE Sensex fell over 144 points in early trade as investors turned cautious ahead of February derivatives expiry amid sustained foreign fund outflows and mixed Asian cues.

The 30-share index, which had gained 141.27 points in the previous session, slipped 144.23 points, or 0.42 per cent, to 33,700.63.
---
Be the first person to write a business review for Indian engineer part of team awarded sci-tech Oscar