Indian engineer part of team awarded sci-tech Oscar
Posted on 12th February 2018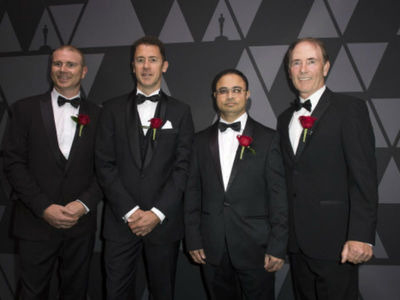 MUMBAI: An engineer raised in Mumbai, Vikas Sathaye, was part of the team that bagged the scientific and engineering award at the Oscars 2018 Scientific and Technical Awards on Saturday. The four-member team was honoured at the Beverly Hills ceremony "for the concept, design, engineering and implementation of the Shotover K1 Camera System", which the Academy of Motion Picture Arts and Sciences describes as a "six-axis stabilised aerial camera mount" that has an "enhanced ability to frame shots while looking straight down".

In his statement to the press, Sathaye said that in 2009 he joined a new company called Shotover Camera Systems in Queenstown, New Zealand, which is where he worked on the aerial mount. "One of the reasons to start this company in Queenstown was the natural beauty and stunning scenery which attract a lot of film producers and directors," he said.

"The camera mount gets attached to the base of a helicopter, which carries the camera and lens. Its primary function is to eliminate any vibration from reaching the camera and thus getting steady footage. The other function for the camera mount is to move the camera head in the desired direction as required by the camera operator, who sits inside the helicopter and uses a joystick to control the camera head movement," Sathaye explained.

The aerial mount or gimbal used for 3D aerial filming was named Shotover K1. Sathaye, born in Pune in 1967, grew up in Mumbai. After school, Sathaye completed a diploma in instrumentation from VPM's polytechnic, Thane, followed by a BE in electronics from VIT Pune, and an MTech in instrumentation from IISc.

He taught at Pune's Cummins College of Engineering for Women for seven years, during which he was sent to Italy for a project with Fiat for three months. It was this experience that inspired him to enter the field of embedded software technology.
Jio GigaFiber effect: BSNL now offers 35GB data per day to Bharat Fiber FTTH subscribers
Posted on 21st January 2019
BSNL recently announced Bharat Fiber, which is a fibre-to-the-home (FTTH) internet service for its broadband customers. Taking on rivals like Jio GigaFiber and Airtel V-Fiber, the service is said to offer 35GB data per day at as low as Rs 1.1 per GB. To make sure that users can express their interest in the new service, BSNL has commenced bookings for Bharat Fiber via its online portal.
---
Maruti Suzuki is looking to back your next big startup; here's why?
Posted on 21st January 2019
Maruti Suzuki, India's largest car manufacturer today announced the launch of its innovation program for early-stage startups in the automobile and mobility space called Mobility & Automobile Innovation Lab (MAIL).

The company has partnered with Gurugram-based startup accelerator GHV Accelerator to tap on innovative startups with solutions that it believes are futuristic and customer oriented.
---
Kotak Mahindra Bank consolidated Q3 net up 13.5% to Rs 1,844 crore
Posted on 21st January 2019
Private lender Kotak Mahindra Bank reported 13.5 per cent rise in its third quarter (Q3) consolidated net profit on account of higher interest and fee income. The asset quality of the bank's loan book also improved during the quarter.

Profit after tax at the consolidated level rose to Rs 1,844 crore for the quarter ended December 2018 (Q3FY19), from Rs 1,624 crore in the year-ago period (Q3FY18).
---
LIC completes the acquisition of 51% controlling stake in IDBI Bank
Posted on 21st January 2019
IDBI Bank Monday said insurance behemoth LIC has completed acquisition of 51 per cent controlling stake in the bank, making it the lender's majority shareholder.

"The deal, conceptualised in June 2018, is envisaged as a win-win situation for both IDBI Bank and LIC with an opportunity to create enormous value for shareholders, customers & employees of both entities through mutual synergies," IDBI Bank said in a BSE filing.
---
Sebi interpretation does not permit smaller L&T buyback
Posted on 21st January 2019
Shares of Larsen & Toubro Ltd opened over 3% lower on Monday after market regulator Securities Exchange Board of India denied the company permission for its first ever share buyback plan. However, the scrip pared all the losses and was trading 0.4% higher.

The stock had opened at ₹1,275 a share, or 3.3% lower than its Friday close. At 9.56 am, L&T was trading at ₹1,324 on the BSE, up 0.44% from its previous close. The Sensex rose 0.7% to 36,652.26 points.
---
Be the first person to write a business review for Indian engineer part of team awarded sci-tech Oscar