Indian engineer part of team awarded sci-tech Oscar
Posted on 12th February 2018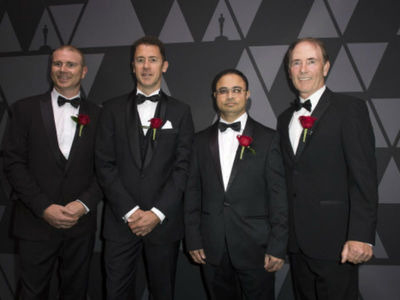 MUMBAI: An engineer raised in Mumbai, Vikas Sathaye, was part of the team that bagged the scientific and engineering award at the Oscars 2018 Scientific and Technical Awards on Saturday. The four-member team was honoured at the Beverly Hills ceremony "for the concept, design, engineering and implementation of the Shotover K1 Camera System", which the Academy of Motion Picture Arts and Sciences describes as a "six-axis stabilised aerial camera mount" that has an "enhanced ability to frame shots while looking straight down".

In his statement to the press, Sathaye said that in 2009 he joined a new company called Shotover Camera Systems in Queenstown, New Zealand, which is where he worked on the aerial mount. "One of the reasons to start this company in Queenstown was the natural beauty and stunning scenery which attract a lot of film producers and directors," he said.

"The camera mount gets attached to the base of a helicopter, which carries the camera and lens. Its primary function is to eliminate any vibration from reaching the camera and thus getting steady footage. The other function for the camera mount is to move the camera head in the desired direction as required by the camera operator, who sits inside the helicopter and uses a joystick to control the camera head movement," Sathaye explained.

The aerial mount or gimbal used for 3D aerial filming was named Shotover K1. Sathaye, born in Pune in 1967, grew up in Mumbai. After school, Sathaye completed a diploma in instrumentation from VPM's polytechnic, Thane, followed by a BE in electronics from VIT Pune, and an MTech in instrumentation from IISc.

He taught at Pune's Cummins College of Engineering for Women for seven years, during which he was sent to Italy for a project with Fiat for three months. It was this experience that inspired him to enter the field of embedded software technology.
---
Amazon helps Shenzhen ex-Googler turn mom's money into a billion
Posted on 21st May 2018
After Steven Yang left his coveted job at Google, he asked his mother whether he should take venture-capital money to fund his business idea.

If his online consumer-electronics enterprise was a risky bet, she told him, go with the venture capitalists. But if building the business into something great was his destiny, he instead should use her money from a pharmaceutical career in China.
---
L&T Hydrocarbon Engineering bags orders for setting up two fertilizer plants in Bihar, Jharkhand
Posted on 21st May 2018
L&T Hydrocarbon Engineering in consortium with TechnipFMC has bagged two orders from Hindustan Urvarak and Rasayan Ltd for setting up two fertilizer plants. "L&T Hydrocarbon Engineering (LTHE), a wholly owned subsidiary of… Larsen & Toubro Ltd, in consortium with TechnipFMC, has won two significant orders from Hindustan Urvarak and Rasayan Ltd (HURL), a joint venture company of IOCL, NTPC, CIL, FCIL and HFCL," Larsen and Toubro (L&T) said in a BSE filing.
---
Ashok Leyland extends fall on volume growth concerns; stock ends 10% lower
Posted on 21st May 2018
Shares of Ashok Leyland have declined nearly 10% to Rs 133.75, extending their 4% fall on the BSE on Friday, on concerns of truck volume growth in current fiscal on account of a partial overloading ban relaxation in Uttar Pradesh (UP) from last month.

In the past two weeks, Ashok Leyland has underperformed the market by falling over 18% as compared to 1.2% decline in the S&P BSE Sensex. The stock hit a record high of Rs 168 on May 8, 2018 in intra-day trade.
---
Hyundai India profit up 6% in 2017 to Rs 22 bn, growth similar to Maruti's
Posted on 21st May 2018
Korean car maker Hyundai, the second-biggest player in the domestic car market, expanded its profit by six per cent in the 2017 calendar year (CY) to Rs 22 billion. The profit increase is identical to market leader Maruti Suzuki's, which saw a five per cent increase in profit for the year ended March 31, 2018. Hyundai's sales revenue also grew by six per cent in 2017.
---
Be the first person to write a business review for Indian engineer part of team awarded sci-tech Oscar