Indian engineer part of team awarded sci-tech Oscar
Posted on 12th February 2018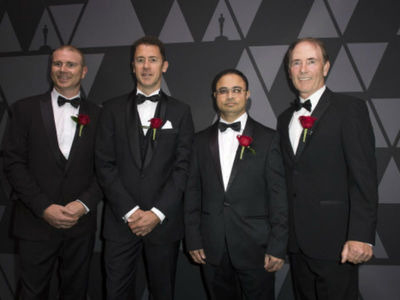 MUMBAI: An engineer raised in Mumbai, Vikas Sathaye, was part of the team that bagged the scientific and engineering award at the Oscars 2018 Scientific and Technical Awards on Saturday. The four-member team was honoured at the Beverly Hills ceremony "for the concept, design, engineering and implementation of the Shotover K1 Camera System", which the Academy of Motion Picture Arts and Sciences describes as a "six-axis stabilised aerial camera mount" that has an "enhanced ability to frame shots while looking straight down".

In his statement to the press, Sathaye said that in 2009 he joined a new company called Shotover Camera Systems in Queenstown, New Zealand, which is where he worked on the aerial mount. "One of the reasons to start this company in Queenstown was the natural beauty and stunning scenery which attract a lot of film producers and directors," he said.

"The camera mount gets attached to the base of a helicopter, which carries the camera and lens. Its primary function is to eliminate any vibration from reaching the camera and thus getting steady footage. The other function for the camera mount is to move the camera head in the desired direction as required by the camera operator, who sits inside the helicopter and uses a joystick to control the camera head movement," Sathaye explained.

The aerial mount or gimbal used for 3D aerial filming was named Shotover K1. Sathaye, born in Pune in 1967, grew up in Mumbai. After school, Sathaye completed a diploma in instrumentation from VPM's polytechnic, Thane, followed by a BE in electronics from VIT Pune, and an MTech in instrumentation from IISc.

He taught at Pune's Cummins College of Engineering for Women for seven years, during which he was sent to Italy for a project with Fiat for three months. It was this experience that inspired him to enter the field of embedded software technology.
HDFC puts out notice to auction family house of Sanjay Chandra
Posted on 17th October 2018
New Delhi: As their real estate empire crumbles, Chandras of Unitech may even lose their family home to lenders. Mortgage lender HDFC has put out notices to auction Sanjay Chandra's house in the upmarket Hauz Khas area in South Delhi.

Unitech managing director Sanjay Chandra grew up in the Mayfair Garden house in Hauz Khas where his mother ran a clinic.
---
Paytm Money appoints Cyrus Khambata to its board
Posted on 17th October 2018
New Delhi: Paytm Money, the wealth management unit of One97 Communications Ltd., on Wednesday said it had appointed former executive director of Central Depository Services Ltd. (CSDL India) Cyrus Khambata to its board of directors.

Khambata, considered an industry veteran in capital markets, has previously served as the managing director of CDSL Ventures and CDSL Insurance Depository.
---
Tata Motors eyes tie-ups with Ola, Uber with new shared mobility platform
Posted on 17th October 2018
New Delhi: Tata Motors Ltd has created a separate division to explore ways to tap its entire range of passenger and commercial vehicles for offering shared mobility solutions, said two people aware of the development. Named Mobility Innovations Hub, the new department is headed by Pankaj Jhunja, formerly with Tata Technologies, said the people cited above, who did not want to be named.
---
Sensex jumps 267 points on strong earnings and global cues
Posted on 17th October 2018
The equity benchmark Sensex rallied for the fourth straight session Wednesday, and jumped 267 points, on encouraging second quarter earnings by tech major Infosys and positive global cues.

The 30- share Sensex soared 267.26 points, or 0.76 per cent, to 35,429.74. It had rallied 1,161 points in the previous three sessions.
---
RIL pips TCS again to become India's most valued firm; Mukesh Ambani-led firm's rise so far
Posted on 17th October 2018
Billionaire Mukesh Ambani-controlled Reliance Industries Ltd (RIL) on Tuesday pipped the information technology (IT) giant Tata Consultancy Services (TCS) to become the country's most valued firm by market capitalisation. As per Tuesday's close, Reliance Industries' market capitalisation was recorded at Rs 7,37,576.57 crore on the Bombay Stock Exchange (BSE), up Rs 1,471.26 crore from that of Tata Consultancy's market capitalisation of 7,36,105.31 crore on Tuesday, data available with the stock exchanged showed.
---
Be the first person to write a business review for Indian engineer part of team awarded sci-tech Oscar