FinMin banks on HPCL-ONGC deal to mop up over Rs 90,000 crore in disinvestment, narrow fiscal deficit
Posted on 18th January 2018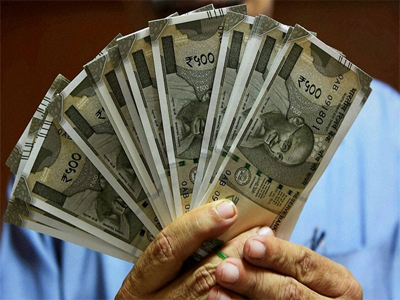 Riding on the back of expected HPCL-ONGC deal, the government is eyeing to end FY18 with record disinvestment receipts of over Rs 90,000 crore as against the Budget target of Rs 72,500 crore, media sources reported. It is almost the double of over Rs 46,000 crore recorded last year. However, the exact amount to be raised after stake sale in HPCL is still uncertain. The deal, if finalized by March this year, should raise over Rs 30,000 for the government.The fiscal deficit reached Rs 6.12 trillion or 112% of the full-year budget during eight months to November. In less than a month of announcing additional market borrowings of Rs 50,000 crore for the fiscal year ending March-18, the government announced on Wednesday that it has cut its requirement to Rs. 20,000 crore from Rs 50,000 crore estimated earlier. After this news, Sensex touched 35,000-levels for the first time ever. Markets have extended the record-breaking rally on Thursday with Sensex and Nifty opening at fresh records after hitting new milestones in yesterday's trade. BSE Sensex gained as many as 394.88 points to hit a lifetime high of 35,476.7 while NSE Nifty added 98.55 points to mark the record high of 10,887.1 on Thursday. It's most probably the deal may fuel positive sentiments in the markets if closed this fiscal year.

The Core Group of Secretaries on Disinvestment (CGD) headed by the Cabinet secretary has approved the broad contours of Oil and Natural Gas Corporation's proposed acquisition of the government's 51.11 percent stake in Hindustan Petroleum Corporation, paving the way for the transaction later this month, The Financial Express had reported on January 10.

DIPAM's data showed that as on January 02, 2018, the government has achieved Rs 32,321.92 crore from CPSE disinvestment compared to their target of Rs 46,500 crore. While Rs 4,153.65 crore has been achieved from strategic disinvestment so far in FY18 compared to their target of Rs 15,000. It was only listing of insurance companies that overshoot the disinvestment target of Rs 11,000 crore this fiscal. The government has raised about Rs 17,357.48 crore from this mechanism with the listing of The New India Assurance Company Limited and General Insurance Corporation Of India. The government has thus raised about Rs 53,833.05 crore – which would be over 74 percent of disinvestment target.
17 US states, DC file lawsuit against Trump's new visa policy for students
Posted on 14th July 2020
As many as 17 US states and the District of Columbia have filed a lawsuit against the Trump administration's new visa policy for international students, calling it a "cruel, abrupt, and unlawful action to expel them amidst the COVID-19 pandemic.

In its July 6 order, the US Immigration and Customs Enforcement (ICE) declared that the nonimmigrant students with F-1 and M-1 visas attending schools operating entirely online or taking only online courses will not be permitted to remain in the United States.
---
Telangana coronavirus update: State reports 1,550 new cases, 9 deaths
Posted on 14th July 2020
A total of 1,550 COVID-19 cases and nine deaths were reported in Telangana on Monday, said the state's health department.

The state's total COVID-19 cases now stand at 36,221, including 12,178 active cases and 23,679 recoveries.

The deadly virus has so far claimed 365 lives in the State.
---
Gold prices today at Rs 49,050 per 10 gm, silver jumps to Rs 52,210 a kg
Posted on 14th July 2020
Gold prices on Tuesday jumped to Rs 49,050 from Rs 49,010 per 10 gram, while silver climbed to Rs 52,210 from Rs 52,000 per kilogram, according to Good Returns website.

Gold jewellery prices vary across India, the second-largest consumer of the metal, due to excise duty, state taxes, and making charges.
---
5Paisa Capital hits 52-wk high after posting first-ever quarterly profit
Posted on 14th July 2020
Shares of 5Paisa Capital were locked in 5 per cent upper circuit at Rs 324.60 on the BSE on Tuesday after the company posted net profit of Rs 3.74 crore in June quarter (Q1FY20), against net loss of Rs 55 lakh in the year-ago quarter.

The company has reported quarterly profits for the first time since the launch of 5Paisa in March 2016. The stock was trading at its 52-week high level.
---
Tata Communications hits over 2-year high; stock zooms 112% in 3 months
Posted on 14th July 2020
Shares of Tata Communications were locked in the 5 per cent upper circuit for the second straight day on the BSE at Rs 700.55 on Tuesday, hitting an over two-year high in an otherwise weak market.

The stock of the Tata group company was trading at its highest level since December 15, 2017. In the past three months, it had rallied 112 per cent after the company delivered strong operating performance during the January-March quarter (Q4FY20). In comparison, the S&P BSE Sensex was up 18 per cent during the period.
---
Be the first person to write a business review for FinMin banks on HPCL-ONGC deal to mop up over Rs 90,000 crore in disinvestment, narrow fiscal deficit