Four cops killed in IED blast in J&K's Sopore; Mehbooba Mufti condemns incident
Posted on 6th January 2018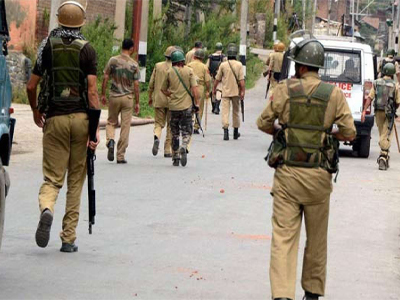 Four policemen were killed after an improvised explosive device (IED) went off in Sopore on Saturday.

Deputy Inspector General of police, North Kashmir Range, VK Birdhi told DNA that terrorists detonated the IED when cops were deployed in the area.

"We have lost four boys in the incident", said Birdhi.

Security forces have sealed off the area and massive hunt has been launched to nab the terrorists responsible for the incident. Reinforcements have also been rushed to augment the forces on ground to hunt down the militants.

The IED blast has occurred two days after terrorists killed a BJP worker Arif Ahmad Sofi when he was strolling outside his house at Sopore.

This is the first major incident of 2018 in which security forces have suffered casualties in a terrorist attack in the valley.

Last month, three Jaish e Mohammad terrorists stormed a CRPF camp, killing four soldiers. Three terrorists were later neutralised in the 36-hour long operation.

Jammu and Kashmir Chief Minister Mehbooba Mufti said she was pained by the news about the killing of four policemen in an IED explosion in Sopore township of Baramulla district.

Former chief minister Omar Abdullah tweeted: "Very sad news from #Sopore. May the four brave J&K police personnel killed in the line of duty today rest in peace." Four policemen on patrol duty were killed when an improvised explosive device (IED) planted by militants went off in Sopore town in north Kashmir today.

Militants had planted the IED near a shop in a lane between the 'Chotta Bazaar' and 'Bada Bazaar' in Sopore in Baramulla district and detonated it when policemen reached the scene, an official said.
No relief for Kotak Bank on promoter shareholding, shares fall
Posted on 17th December 2018
Mumbai: Kotak Mahindra Bank shares fell over 3% on Monday after the Bombay high Court refused to grant stay on 31 December deadline given by the Reserve Bank of India for promoter stake dilution. The next hearing will be on 17 January, Bloomberg reported. In intraday, Kotak Mahindra Bank shares declined as much as 3.6% to hit a low of ₹1,209.30 apiece. The Kotak Bank stock closed at 1,223.90 per share, down 2.50% from its previous close, while the Sensex rose 0.85% to 36,270.07 points.
---
ONGC, OIL spent over Rs 13,000 crore on 115 discoveries sold to private companies: Pradhan
Posted on 17th December 2018
ONGC, OIL spent Rs 13,000 cr on 115 discoveries govt took away from them: Pradhan

New Delhi: State-owned Oil and Natural Gas Corp (ONGC) and Oil India Ltd (OIL) spent over Rs 13,000 crore on 115 oil and gas discoveries which were taken away from them by the government for auctioning to private companies, Oil Minister Dharmendra Pradhan said Monday.
---
NHAI projects likely to fall short by 33-37% of its FY19 target, says Icra
Posted on 17th December 2018
Despite the pace of highways projects undertaken by state-run National Highways Authority of India (NHAI) picking up in the last three years, it is likely to remain short by 33-37 per cent of its FY19 target of completing 6,000 km, says Icra.

With a strong unexecuted pipeline and concerted efforts on right of way, the NHAI is on a strong footing and is set to witness sustained growth in execution in FY2019, the highest ever over the last one decade (FY2010- FY2019), the agency said in a statement issued on Monday.
---
HC rejects IDBI officers' plea against LIC move to acquire stake in bank
Posted on 17th December 2018
The Delhi High Court on Monday dismissed a plea challenging the LIC move to acquire 51 per cent stake in the Industrial Development Bank of India (IDBI).

Justice Vibhu Bakhru rejected the petition by the All India IDBI Officers Association, which had opposed the move of Life Insurance Corporation (LIC) on the ground that change in shareholding could take away the public sector bank status of IDBI.
---
NTPC rallies to near 1-month high after Jefferies raises share price target
Posted on 17th December 2018
Shares of state-run major NTPC surged in early trade Monday after global brokerage Jefferies said that the PSU will benefit from Central Electricity Regulatory Commission (CERC) latest decision. NTPC share price rallied 5.8 per cent to hit the day's high at Rs 151.35. The CERC, in its draft, allowed energy charges per unit of power to be calculated with a variation of 85 kilocalorie to billing on actual gross calorific value of coal received, giving NTPC the benefit of about 2.7 per cent on its coal cost, Jefferies noted.
---
Be the first person to write a business review for Four cops killed in IED blast in J&K's Sopore; Mehbooba Mufti condemns incident