Four cops killed in IED blast in J&K's Sopore; Mehbooba Mufti condemns incident
Posted on 6th January 2018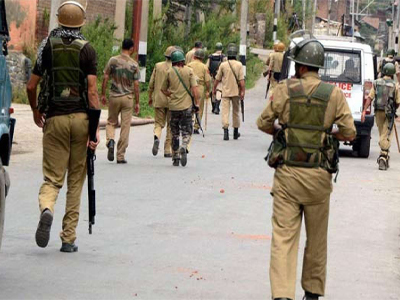 Four policemen were killed after an improvised explosive device (IED) went off in Sopore on Saturday.

Deputy Inspector General of police, North Kashmir Range, VK Birdhi told DNA that terrorists detonated the IED when cops were deployed in the area.

"We have lost four boys in the incident", said Birdhi.

Security forces have sealed off the area and massive hunt has been launched to nab the terrorists responsible for the incident. Reinforcements have also been rushed to augment the forces on ground to hunt down the militants.

The IED blast has occurred two days after terrorists killed a BJP worker Arif Ahmad Sofi when he was strolling outside his house at Sopore.

This is the first major incident of 2018 in which security forces have suffered casualties in a terrorist attack in the valley.

Last month, three Jaish e Mohammad terrorists stormed a CRPF camp, killing four soldiers. Three terrorists were later neutralised in the 36-hour long operation.

Jammu and Kashmir Chief Minister Mehbooba Mufti said she was pained by the news about the killing of four policemen in an IED explosion in Sopore township of Baramulla district.

Former chief minister Omar Abdullah tweeted: "Very sad news from #Sopore. May the four brave J&K police personnel killed in the line of duty today rest in peace." Four policemen on patrol duty were killed when an improvised explosive device (IED) planted by militants went off in Sopore town in north Kashmir today.

Militants had planted the IED near a shop in a lane between the 'Chotta Bazaar' and 'Bada Bazaar' in Sopore in Baramulla district and detonated it when policemen reached the scene, an official said.
Amazon India reportedly closing in on Flipkart
Posted on 22nd March 2018
BENGALURU: Amazon has almost closed the gap with Flipkart's standalone sales in 2017, behind in GMV marketshare by less than 1percentage point in 2017 from 5 percentage points in 2016, as per Forrester. However, Flipkart still leads as a group with Myntra and Jabong.

While Flipkart leads in fashion and smartphones, Amazon has taken lead in categories such as appliances, consumer electronics, and more importantly, groceries, which builds platform stickiness, said Satish Meena, a senior forecast analyst at Forrester.
---
Air India may give promotions to 100 pilots with pay hike of up to Rs 12 lakh: Report
Posted on 22nd March 2018
Amidst the privatisation talks, it has been reported that the national carrier Air India might gove promotion to its 100 pilots with a pay hike of Rs 12 lakh per head.

"The 100 deputy general manager rank pilots are narrow-body and widebody pilots. These pilots are likely to be promoted to executive despite the fact that the airline is being privatised," a source told the Economic Times.
---
Opening bell: Sensex opens stronger after fed rates hike
Posted on 22nd March 2018
Key indices on Thursday gained strength after the federal reserve hiked rates as widely expected.

The 30-share BSE Sensex was up 138.34 points at 33,274.52 and the 50-share NSE Nifty rose 49.40 points to 10,204.70.
---
Sebi may impose trading curbs on cos undergoing insolvency proceedings
Posted on 22nd March 2018
The Securities and Exchange Board of India (Sebi) may impose trading restrictions on shares of companies that are undergoing insolvency proceedings. The move, which is also a demand by industry players, is aimed at reducing volatility in stock prices and curbing manipulation or misuse of price-sensitive information.

Sources said the market regulator would lay down a compliance framework for listed companies undergoing insolvency resolution. The announcement will likely be made at Sebi's board meeting next week.
---
Essar Steel set for rebid as lenders reject Arcelor, Numetal offers
Posted on 22nd March 2018
The State Bank of India-led consortium of lenders called for a second round of bidding for Essar Steel on Wednesday. All the six companies that had submitted expressions of interest (EoIs) earlier have to submit their bids by April 2.

Lenders rejected bids by Numetal and ArcelorMittal after both companies failed the legal eligibility test. The legal advisors cited one of the clauses of Section 29A of the Insolvency and Bankruptcy Code (IBC) for rejecting the bids.
---
Be the first person to write a business review for Four cops killed in IED blast in J&K's Sopore; Mehbooba Mufti condemns incident