U.S. government issues alerts about malware and IP addresses linked to North Korean cyber attacks
Posted on 15th November 2017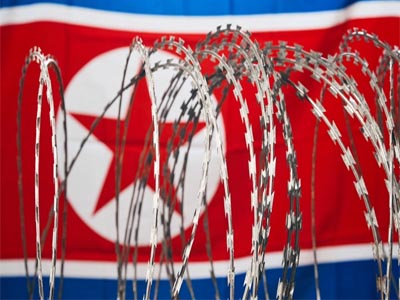 US-CERT, the Department of Homeland Security team responsible for analyzing cybersecurity threats, has posted a warning about cyber attacks by the North Korean government, which it collectively refers to as "Hidden Cobra." The technical alert from the FBI and Department of Homeland Security says a remote administration tool (RAT) called FALLCHILL has been deployed by Hidden Cobra since 2016 to target the aerospace, telecommunications and finance industries.

FALLCHILL allows Hidden Cobra to issue commands to a victim's server by dual proxies, which means it can potentially perform actions like retrieving information about all installed disks, accessing files, modifying file or directory timestamps and deleting evidence that it's been on the infected server.

The FBI and Department of Homeland Security also posted a list of IP addresses linked to Hidden Cobra. The FBI says it "has high confidence" that those IP addresses are linked to attacks that infect computer systems with Volgmer, a Trojan malware variant used by Hidden Cobra to target the government, financial, auto and media industries.

The U.S. government says Volgmer has been used to gain access to computer systems since at least 2013. Once Volgmer establishes a presence in a systems, it can gather system information, update service registry keys, download and upload files, execute commands and terminate processes and list directories, says the FBI and Department of Homeland Security.

The new warnings from US-CERT come five months after a technical alert posted in Junethat implicated Hidden Cobra (which has also been called Lazarus Group and Guardians of the Peace by security experts) in a series of cyber attacks that date back to 2009 and include the 2014 Sony Pictures hack.

While North Korea's cyber espionage efforts were once dismissed by many security experts, the success of Hidden Cobra over the last few years has changed that perception, and it is now seen as a serious threat because it is able to do a lot of damage at a relatively low cost.
Isro ahead of TCS among top-rated tech workplaces in India: Report
Posted on 11th December 2018
Technology professionals look towards Indian Space Research Organization (ISRO) as a more aspirational tech workplace than software major Tata Consultancy Services (TCS), according to a report by job search portal Indeed.

Indeed announced the leading technology organisations to work for in India, on the basis of over 100 million ratings and reviews available on Indeed. Leading the list is Adobe Inc., followed by industry giants NVIDIA and Microsoft.
---
Telangana polls: TRS on course to retaining power if initial trends hold
Posted on 11th December 2018
The TRS was on course to return to power with a thumping majority in Telangana if the initial trends hold, with party candidates leading in 92 out of the total 119 assembly constituencies.

TRS chief K Chandrasekhar Rao (Gajwel), his son K T Rama Rao (Sircilla) and nephew T Harish Rao (Siddipet) have established handsome leads, as the party's gamble to go in for early elections seems to be paying off.
---
Air India floats tender to sell Nariman Point tower
Posted on 11th December 2018
Mumbai: Air India has floated tender for the sale of its iconic 23-storey tower at Nariman Point in Mumbai. Only government entities are allowed to participate in the bidding for acquiring leasehold rights of the land and building on "as is where is basis."

"Air India invites sealed bids from government entities for sale of leasehold rights of the land, and its iconic Air India building constructed hereon at Nariman Point, Mumbai, on as is where is basis," the tender said.
---
Extradition of once king of good times' Vijay Mallya from UK to speed up loan recovery process, says SBI
Posted on 11th December 2018
Countrys largest lender State Bank of India (SBI) Tuesday said extradition of fugitive liquor baron Vijay Mallya from the UK to India will speed up the recovery of over Rs 9,000 crore of loans. In a major boost to India's efforts to bring back Mallya, who is wanted for loan default worth around Rs 9,000 crore to a consortium of 13 banks led by SBI, a UK court Monday ordered his extradition.
---
Tata Motors aims Harrier at Jeep Compass, Mahindra XUV500
Posted on 11th December 2018
New Delhi: Tata Motors Ltd, which is on a comeback trail, is betting big on its upcoming SUV Tata Harrier to place itself among the top three passenger vehicle manufacturers on a sustainable basis, a top company executive said.The company, which has been working on a strategy to revive its fortunes in the passenger vehicle (PV) segment for the last couple of years, now believes it has the products and scale to be among the leaders in the segment.
---
Be the first person to write a business review for U.S. government issues alerts about malware and IP addresses linked to North Korean cyber attacks