Coronavirus going airborne? WHO acknowledges 'emerging evidence' from 239 scientists in 32 countries
Posted on 8th July 2020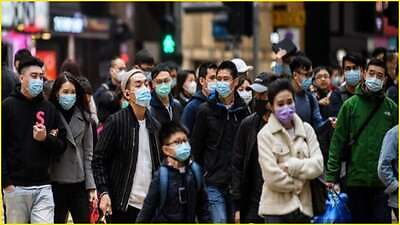 In a mildly alarming update, the World Health Organisation (WHO) on Tuesday acknowledged that there is "evidence emerging" which shows that the SARS-CoV-2 coronavirus might be spreading 'airborne', leading to a whole new timorous dimension to the raging coronavirus disease (COVID-19) pandemic outbreak.

Maria Van Kerkhove, technical lead on the COVID-19 pandemic at WHO, told a news briefing on Tuesday, "We have been talking about the possibility of the airborne transmission and aerosol transmission as sone of the modes of transmission of COVID-19."

Notably, WHO had earlier confidently claimed that the coronavirus does not spread airborne, although it had admitted on several counts that there has been a reported possibility of aerosol transmission in a relatively closed environment with prolonged exposure like ICUs-CCUs in hospitals, however more tepid data analysis is needed to understand this.

"Based on the information received so far and on our experience with other coronaviruses, COVID-19 appears to mostly spread through respiratory droplets (for instance when a sick person coughs) and close contact. This is why the WHO recommends hands and respiratory hygiene," Dr. Poonam Khetarpal Singh, Regional Director of WHO Southeast Asia, had said earlier.

However, on Tuesday, a group of 239 scientists in 32 countries had penned an open letter to the Geneva-based agency, outlining evidence that they say shos floating virus particles can infect people who breathe them in.

The letter was published on Monday in the Clinical Infectious Diseases journal. In the letter, the scientists had also urged WHO to update its guidance on how the respiratory disease passes between people, in light of the newly emerging evidence.

Following this, WHO acknowledged the fact and said, at a press conference, that they must be "open to this evidence."

"We acknowledge that there is emerging evidence in this field, as in all other fields regarding the COVID-19 virus and pandemic," Benedetta Allegranzi, WHO's technical lead for infection prevention and control, said.

WHO's present guidance says the virus is primarily spread by large airborne droplets that are emitted through coughs and sneezes and quickly fall to the ground after being discharged. But the researchers from 32 countries said that smaller respiratory particles can linger in the air and infect people.

The United Nations' specialized agency, responsible for international public health, said that they will soon publish a scientific briefing summarising the state of knowledge on modes of transmission of the virus in the coming days.
ICICI Bank shares gain 3% after setting floor price for QIP issue
Posted on 11th August 2020
Shares of ICICI Bank gained as much as 3 per cent to Rs 374.15 on the BSE on Tuesday after the private lender launched its qualified institutional placement (QIP), setting the floor price at Rs 351.36 per share.

The bank plans to raise up to Rs 15,000 crore to support business growth and create a buffer to absorb any shock from the economic disruption caused by the coronavirus pandemic.
---
Axis Bank raises Rs 10,000 cr via allotment of equity shares to QIBs
Posted on 11th August 2020
Private sector lender Axis Bank on Tuesday said it has raised Rs 10,000 crore through allotment of equity shares to qualified institutional buyers (QIB).

Last week, Axis Bank had set a floor price of Rs 442.19 per equity share for its proposed Rs 15,000-crore qualified institutional placement (QIP).
---
JSW Steel production rises 9% in July at 1.2 million tonnes
Posted on 11th August 2020
JSW Steel, the flagship business of 12 billion dollar JSW Group, on Tuesday reported crude steel production of 12.46 lakh tonnes in July, up 9 per cent from 11.44 lakh tonnes in the previous month.

In July last year, however, it had recorded crude steel production of 13.17 lakh tonnes, it said in a statement. The average capacity utilisation was 83 per cent as against 76 per cent in June.
---
Hyundai Creta's sales milestone, crosses 500,000 mark in domestic market
Posted on 11th August 2020
Hyundai Creta's sales number has touched 5,00,000-mark in the domestic market, the company announced on Tuesday.

Hyundai Creta has been the blockbuster model in the Indian Automobile industry ever since its launch in 2015. Redefining the SUV landscape in India, Creta's supremacy transpires from Hyundai's technological prowess and innovation, outperforming the industry benchmarks in all aspects, said Tarun Garg, Director (Sales, Marketing & Service), Hyundai Motor India Ltd.
---
Dr Reddy's Laboratories launches drug to treat infections in US market
Posted on 11th August 2020
Dr Reddys Laboratories Ltd on Tuesday announced the launch of a generic version of Ciprodex (ciprofloxacin 0.3% and dexamethasone 0.1%) Otic Suspension in the American market, following approval from the US Food and Drug Administration (USFDA).

Ciprodexis used in adults and children 6 months of age or older to treat certain types of infections caused by certain germs called bacteria.
---
Be the first person to write a business review for Coronavirus going airborne? WHO acknowledges 'emerging evidence' from 239 scientists in 32 countries