Fuel prices: After 22 hikes, petrol now costs Rs 80.43, diesel Rs 80.53
Posted on 29th June 2020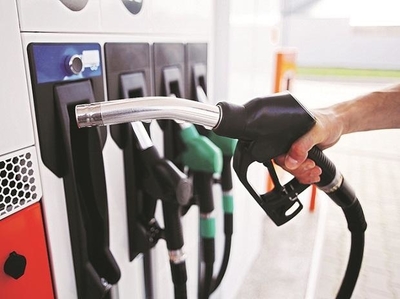 After a day's pause, state oil marketing companies on Monday resumed fuel price hike. Petrol price in Delhi was increased for the 22nd day by 5 paise to Rs 80.43 and diesel price by 13 paise to Rs 80.53. Diesel continued to be costlier than petrol for the sixth consecutive day.

Rates differ from state to state, depending on value-added tax (VAT). The state had increased the VAT on diesel from 16.75 per cent to 30 per cent and on diesel from 27 per cent to 30 per cent. The cumulative hike since the oil companies started the cycle on June 7 now totals to Rs 9.17 for petrol and Rs 11.14 for diesel.


Petrol prices in Chennai, Mumbai and Kolkata were raised as well. On Monday, prices in Mumbai touched Rs 87.19 a litre and diesel went up to Rs 78.83 a litre. In Kolkata, the prices were at Rs 82.10 and Rs 75.64 a litre for diesel, respectively. In Chennai, petrol was retailing at Rs 83.63 while diesel was selling at Rs 77.72.

Notably, on June 7, oil companies had restarted revising prices in line with costs after ending an 82-day hiatus during which they adjusted steep excise duty hikes by the government against the fall in benchmark international oil rates.

Meanwhile, the Congress party in Goa has organised a demonstration at district levels on June 29 as part of the All India Congress Committee mass protest against fuel price hike, state party president Girish Chodankar said. "Congress party office-bearers and all frontal organisations will sit in a two-hour dharna from 10 am to 12 noon near South Goa District Collectorate Office at Margao and in front of Deputy Collector's office at Mapusa demanding rollback in the rise of fuel prices. The party workers will maintain all social distancing norms and they will be wearing protective masks," Chodankar said in a press note.

The dharna will conclude with the presentation of a memorandum addressed to President Ram Nath Kovind through the respective District Magistrates.

Chodankar further said that the Goa government has increased Value Added Tax (VAT) on petrol to 25 per cent while on diesel by 22 per cent, in addition to the rise in excise duty by the Centre.

In the month of June, the price of liquefied petroleum gas (LPG) had also increased by Rs 11.50 a cylinder in Delhi. For the current month, price of a 14.2 kg non-subsidised LPG cylinders was seen at Rs 593 in Delhi, Rs 590.50 in Mumbai, Rs 606.50 in Chennai, and Rs 616 in Kolkata.

LPG consumption recorded a growth of 12.8 per cent in May as compared to the same month in 2019, mainly because of the government scheme regarding free refills of cylinders for poor households.
Noida gets 400-bed Covid-19 hospital, CM Yogi Adityanath reviews facilities
Posted on 8th August 2020
Uttar Pradesh Chief Minister Yogi Adityanath on Saturday inaugurated a dedicated 400-bed government hospital for COVID-19 patients in Noida.

The facility is located in Sector 39 of the city and has come up in association with the Tata Trusts and the Bill and Melinda Gates Foundation, according to officials.
---
Gold price today at Rs 56,050 per 10 g; silver at record Rs 76,510 a kg
Posted on 8th August 2020
Gold prices today jumped to Rs 56,050 from Rs 55,350 per 10 gram, while silver climbed to Rs 76,510 from Rs 73,500 per kg, according to Good Returns website.

Gold jewellery prices vary across India, the second-largest consumer of the metal, due to excise duty, state taxes, and making charges.
---
US election: China would love to have me lose to 'sleepy' Biden, says Trump
Posted on 8th August 2020
US President Donald Trump on Friday (local time) said that China would love to have an election if he lost to his sleepy Democrat presidential candidate Joe Biden.

China would love for us to have an election where Donald Trump lost to sleepy Joe Biden. They would dream (that) they would own our country. If Joe Biden was president, China would rule our country, he told reporters here.
---
Facebook builds 600 affordable homes to address housing crisis in US
Posted on 8th August 2020
Facebook has produced and preserved approximately 600 affordable homes near its headquarters in Menlo Park, California, of which roughly 70 per cent are reserved for extremely low and very low-income residents.

The company said it is on track to creating approximately 750 affordable homes by 2022.
---
Amazon, Flipkart set to witness business worth $600 mn during sale events
Posted on 8th August 2020
E-commerce companies Amazon and Flipkart are expecting to witness a total business of about $600 million during their ongoing sale events. This is at least 25 per cent higher in terms of sales compared to the business these firms would have generated for such small scale events during pre-Covid times, according to the industry insiders and analysts. They are also witnessing an increase in volumes (number of orders) which is 40 per cent higher than the normal times. Walmart-owned Flipkart is running the 5-day 'Big Saving Days' sale till Monday, coinciding with Amazon's 48-hour Prime Day sale which ended on Friday night.
---
Be the first person to write a business review for Fuel prices: After 22 hikes, petrol now costs Rs 80.43, diesel Rs 80.53