57 Buffalo police officers quit tactical unit to protest suspension of two colleagues who pushed 75-year-old protester
Posted on 6th June 2020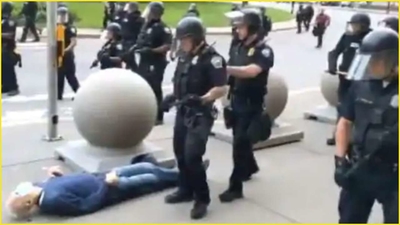 Atleast 57 members of the police tactical unit in Buffalo, New York resigned from the team on Friday to protest the suspension of two colleagues for pushing a 70-year-old man to the ground outside the City Hall on Thursday during the ongoing protests, the local media reported.

Two members of the Buffalo Police Department`s Emergency Response Team were suspended after the incident which was filmed on camera was released by a local radio station.

A spokesperson for the local county's district attorney, Kait Munro, said the two officers are under investigation for potential criminal liability in connection with the incident.

While Buffalo Police Benevolent Association President John Evans said that the officers who have been suspended were simply doing their job, and that their colleagues on the response team had resigned from the special unit to protest their treatment, local media quoted Evans as saying.

The Buffalo city Mayor Byron Brown on Friday said that contingency plans were in place to address any policing issues due to the resignations. He said he believed the Police Benevolent Association put pressure on officers in the tactical unit by threatening to withdraw support to them if they did not resign from that team. Brown said in a television interview to CNN.

"I don`t think unions should behave that way. That was not an act to protect the worker. That was an act to intimidate police officers and to not protect the residents of our community," he added.

The video shows a white-haired man approaching a line of officers who are in riot gear while one officer pushes him with a baton the second one shoves him with his hand. The white-haired man, identifed as Martin Gugino, falls and blood trickles from his head.

The video shows the majority of the officers march past the injured man though the officer who pushed him with a baton starts to lean over him before he is motioned away by another officer. Someone is heard calling for a medic, according to a report by Reuters.

Even New York Governor Andrew Cuomo criticised the act saying, "You see that video and it disturbs your basic sense of decency and humanity," Cuomo told reporters at a daily briefing. "Why, why, why was that necessary? Where was the threat?", he said.

The incident has raised further questions about police behaviour after the death of African-American man George Floyd in Minneapolis has set off nationwide protests.
Gold prices slump to Rs 48,900 per 10 gm, Silver rallying at Rs 51,950 a kg
Posted on 11th July 2020
Gold prices on Saturday fell to Rs 48,900 from Rs 49,100 per 10 gram, while silver climbed to Rs 51,950 from Rs 51,900 per kilogram, according to Good Returns website.

Gold jewellery prices vary across India, the second-largest consumer of the metal, due to excise duty, state taxes, and making charges.
---
Facebook plans to ban political ads before US Presidential election: Report
Posted on 11th July 2020
Facing intense criticism from all quarters, Facebook is planning to ban political ads on its platform like Twitter does as the US inches closer towards the presidential election in November, the media reported on Saturday.

According to a report in CNN Business citing sources, the potential ban on political ads to reduce the spread of disinformation has been under consideration since last fall.
---
RIL closes four Jio stake sale deals, receives Rs 30,062 cr from investors
Posted on 11th July 2020
After Facebook Inc, Reliance Industries has closed deals to sell a minority stake in its digital arm to four other investors, receiving a total of over Rs 30,062 crore.

In a regulatory filing, Reliance said it has closed the sale of 6.13 per cent stake in Jio Platforms with L Catterton, The Public Investment Fund, Silver Lake and General Atlantic.
---
Kolkata: Eden Gardens to be used as COVID-19 quarantine facility for police personnel
Posted on 11th July 2020
Kolkata Police can now use the galleries of Eden Gardens stadium as a makeshift quarantine facility, the Cricket Association of Bengal (CAB) on Friday said.

A meeting at Kolkata Police Headquarter, Lal Bazaar, took place at the Chamber of Special Commissioner Jawed Shamim. It was attended by CAB president Avishek Dalmiya.
---
India sees 27,114 new coronavirus cases, tally crosses 8 lakh-mark
Posted on 11th July 2020
In another highest single-day spike of coronavirus cases, India on Saturday reported 27,114 new cases in the last 24 hours. As many as 519 deaths were reported during this period.

With this, the country's total count has crossed the eight lakh-mark.

The total number of positive cases in the country stands at 8,20,916, including 2,83,407 active cases, 5,15,386 cured/discharged/migrated and 22,123 deaths, according to the Ministry of Health and Family Welfare.
---
Be the first person to write a business review for 57 Buffalo police officers quit tactical unit to protest suspension of two colleagues who pushed 75-year-old protester