There will be Shiv Sena CM in Maharashtra, no matter what: Sanjay Raut
Posted on 15th November 2019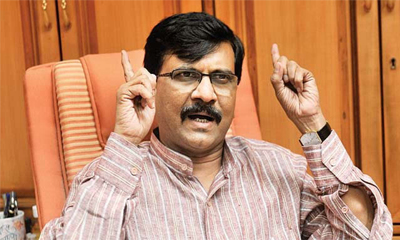 In the ongoing political slugfest over government formation in Maharashtra, Shiv Sena leader Sanjay Raut said that no one can stop the party from acquiring the Chief Minister post.

In a press conference, Sanjay Raut said that there will be a Shiv Sena CM for "next 25 years", emphasizing strongly on the fact that Shiv Sena will be leading Maharashtra "no matter what".He also said that Shiv Sena is the biggest party in Maharashtra and will stay here forever.

On the issue of the Common Minimum Programme (CMP) being finalised by Congress, Shiv Sena and NCP for a coalition government in Maharashtra, Sanjay Raut said that the draft will benefit the people of Maharashtra, and talks are still going on over the issue.

On Thursday, Shiv Sena, Nationalist Congress Party (NCP) and Congress held a joint meeting to discuss the Common Minimum Programme (CMP). The leaders of the three parties have finalised the draft of CMP for a coalition government in Maharashtra after several rounds consultations

On reports suggesting that Shiv Sena has been asked to leave their Hindutva agenda, and drop their goal of conferring the Bharat Ratna to Savarkar, Sanjay Raut said that these reports were false, and reiterated Shiv Sena's commitment to fighting for the Hindutva idealogue.

He also lashed out at the BJP for not conferring the Bharat Ratna to Veer Savarkar in the past five years when the party was in power.

The party chiefs- Sonia Gandhi, Uddhav Thackeray and Sharad Pawar of Congress, Shiv Sena and NCP respectively are expected to hold another round of discussion over the common minimum programme for Maharashtra on Friday.

Shiv Sena and BJP contested the recently-held assembly elections together but failed to reach an agreement for government formation. The Shiv Sena's demand of 50-50 government formula, asking for the chief minister's post of two and half years was not accepted by the BJP.

After BJP failed to stake claim to form the government, the Shiv Sena has tried to enlist the support of NCP and Congress for an alliance government.

Since Shiv Sena has 56 seats in the Maharashtra Assembly, way below the half-way mark of 144, it will need both the NCP's 54 and Congress' 44 legislators to reach the magic number.

President's rule was imposed on Maharashtra on Tuesday after no party was able to form the government even 20 days after assembly election results which were declared on October 24.
Gold prices steady at Rs 52,701 per 10 gram, silver rises to Rs 67,439 a kg
Posted on 14th August 2020
Gold prices on Friday was recorded at Rs 52,701 per 10 gram on subdued global cues and weaker dollar while silver prices rose to Rs 67,439 from Rs 66,256 per kg, according to Indian Bullion and Jewellers Association. The yellow metal has witnessed sharp volatility in the market as experts chart its direction after a massive slump from recent highs.

Gold jewellery prices vary across India, the second-largest consumer of the metal, due to excise duty, state taxes, and making charges.
---
Oil prices head for second weekly gain amid hopes for fuel demand recovery
Posted on 14th August 2020
Oil prices advanced on Friday and were heading for a second week of gains amid growing confidence that demand for fuel is starting to pick up despite the coronavirus pandemic that has slammed economies worldwide.

Brent crude was up 14 cents, or 0.3%, at $45.10 by 0043 GMT, heading for a gain of about 1.6% this week.
---
Hyderabad-based Biological E joins hands with J&J for Covid-19 vaccine
Posted on 14th August 2020
Hyderabad-based pharma company Biological E Limited (BE) has entered into an agreement with Janssen Pharmaceuticals for the development and manufacturing of Covid-19 drugs as well as Johnson &Johnson's (J&J) Covid-19 vaccine candidate.

The vaccine candidate is in phase 1/2a clinical trials.
---
Amazon enters online pharmacy space in India; to compete with Netmeds, 1mg
Posted on 14th August 2020
E-commerce giant Amazon has forayed into the online medicine segment and launched Amazon Pharmacy. The service has been started in areas with select pin codes in Bengaluru, while the company is learnt to be mulling scaling it up to other cities across India in the near future.

The service would allow customers to order prescription-based medication in addition to over-the-counter medicines, basic health devices and Ayurveda medication from certified sellers.
---
Bengaluru violence: 60 more including Congress corporator's husband arrested
Posted on 14th August 2020
A total of 60 more arrests have been made by the Bengaluru Police in connection with the violence that broke out in the city on August 11, taking the total number of arrests in the incident to 206. Among the new arrests is Kaleem Pasha, husband of Congress corporator from Nagwara ward Irshad Begum.

Pasha is said to have close political links with both the Congress party and SDPI.
---
Be the first person to write a business review for There will be Shiv Sena CM in Maharashtra, no matter what: Sanjay Raut