There will be Shiv Sena CM in Maharashtra, no matter what: Sanjay Raut
Posted on 15th November 2019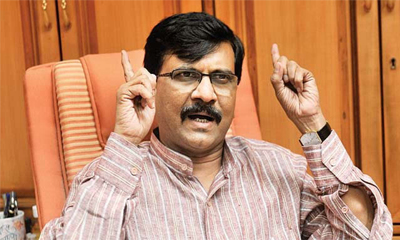 In the ongoing political slugfest over government formation in Maharashtra, Shiv Sena leader Sanjay Raut said that no one can stop the party from acquiring the Chief Minister post.

In a press conference, Sanjay Raut said that there will be a Shiv Sena CM for "next 25 years", emphasizing strongly on the fact that Shiv Sena will be leading Maharashtra "no matter what".He also said that Shiv Sena is the biggest party in Maharashtra and will stay here forever.

On the issue of the Common Minimum Programme (CMP) being finalised by Congress, Shiv Sena and NCP for a coalition government in Maharashtra, Sanjay Raut said that the draft will benefit the people of Maharashtra, and talks are still going on over the issue.

On Thursday, Shiv Sena, Nationalist Congress Party (NCP) and Congress held a joint meeting to discuss the Common Minimum Programme (CMP). The leaders of the three parties have finalised the draft of CMP for a coalition government in Maharashtra after several rounds consultations

On reports suggesting that Shiv Sena has been asked to leave their Hindutva agenda, and drop their goal of conferring the Bharat Ratna to Savarkar, Sanjay Raut said that these reports were false, and reiterated Shiv Sena's commitment to fighting for the Hindutva idealogue.

He also lashed out at the BJP for not conferring the Bharat Ratna to Veer Savarkar in the past five years when the party was in power.

The party chiefs- Sonia Gandhi, Uddhav Thackeray and Sharad Pawar of Congress, Shiv Sena and NCP respectively are expected to hold another round of discussion over the common minimum programme for Maharashtra on Friday.

Shiv Sena and BJP contested the recently-held assembly elections together but failed to reach an agreement for government formation. The Shiv Sena's demand of 50-50 government formula, asking for the chief minister's post of two and half years was not accepted by the BJP.

After BJP failed to stake claim to form the government, the Shiv Sena has tried to enlist the support of NCP and Congress for an alliance government.

Since Shiv Sena has 56 seats in the Maharashtra Assembly, way below the half-way mark of 144, it will need both the NCP's 54 and Congress' 44 legislators to reach the magic number.

President's rule was imposed on Maharashtra on Tuesday after no party was able to form the government even 20 days after assembly election results which were declared on October 24.
Adani Gas crashes 14% on report of gas regulator's notice on non-disclosure
Posted on 24th January 2020

Shares of Adani Gas slipped 14 per cent to Rs 148 on the BSE in Friday's session on reports that Petroleum and Natural Gas Regulatory Board of India (PNGRB) has sent a notice to the company for failing to disclose crucial information regarding a scheme of arrangement with Adani Enterprises.

According to the report by TV channel CNBC Awaaz, Adani Gas has bid for gas projects using networth calculations of Adani Enterprises and that the company's shareholding changes and restructuring violated city gas distribution regulations.
---
Shiv Sena questions Centre on democracy ranking drop, economic woes
Posted on 24th January 2020

The Shiv Sena on Friday said there have been attempts to muzzle dissenting voices and this is one of the reasons for India slipping in the 2019 Democracy Index's global ranking. An editorial in Sena mouthpiece Saamana said a slowdown in economy gives rise to unrest and instability, and this was getting reflected in the prevailing situation in the country.

Now (after an economic slowdown) there is a slide in (India's) global democracy index ranking, the Marathi daily said.
---
---
Judge who issued death warrants against Nirbhaya rapists transferred to Supreme Court registry
Posted on 24th January 2020

A Delhi court judge who issued death warrants for all four convicts in Nirbhaya case has been transferred to the Supreme court registry.

Judge Satish Arora has been appointed as additional registrar in the Supreme Court on a deputation for a year.

Satish Arora had been hearing the petition of parents of Nirbhaya seeking to expedite the process of execution.
---
Companies announce clinical trials for vaccine against China virus
Posted on 24th January 2020

Clinical trials for a vaccine against the new virus sweeping China could be carried out in the summer, the head of an anti-epidemic coalition said on Thursday, as different companies announced research into the disease.

We can announce that we have three partnerships to develop vaccines against the novel coronavirus, Richard Hatchett, chief executive of the Coalition for Epidemic Preparedness Innovations (CEPI), said in Davos.
---
Be the first person to write a business review for There will be Shiv Sena CM in Maharashtra, no matter what: Sanjay Raut