Coronavirus casts chill over aviation outlook despite Asian growth
Posted on 12th February 2020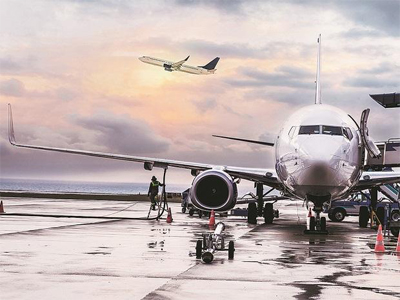 Airlines and aircraft makers are taking a body blow from the virus outbreak in China, as Boeing reported zero orders for new jets in January and forecasting the cargo business will likely contract in 2020.

We, like our customers, are trying to figure out the depth and breadth of this virus and the impact on the airlines, Boeing's vice president for commercial marketing, Randy Tinseth, said Wednesday at the Singapore Air Show.

Without doubt, we will see an impact, he said.

Tinseth said that the cargo business will likely be flat this year and that growth in aircraft sales is likely to fall below its forecast of 2.5-2.7% in 2020.

If we're not seeing goods travel, not seeing planes fly, it's going to be tough to see any growth in the cargo market this year, Tinseth said.

We see 14 months of contraction in the freight market.

The outbreak of the COVID-19 virus has prompted many airlines to halt flights to and from China and devastated travel within the country as many cities halted public transport, seeking to slow its spread.

In Southeast Asia, airlines will need 4,500 new aircraft over the next 20 years, worth $710 billion, Boeing forecasts. Commercial aviation services, an area Boeing is pursuing as it weathers hard times in airport orders and deliveries, are likely to be worth USD 785 billion in 2019-2038.

Vietnam, Thailand and Indonesia are among the 10 biggest markets for aircraft, helping to make the region one of the world's biggest and fastest growing Worldwide, Boeing is forecasting the world will need 44,040 new commercial aircraft worth USD 6.8 trillion in the next 20 years, with after sales services valued at more than $9 trillion.

The fundamentals of our business tend to be strong. Our customers tend to understand these are long lived assets that demand tends to be durable," Tinseth said.

A key challenge for airlines and the industry as a whole is availability of pilots and technicians. The Asia-Pacific region will need 182,000 such personnel to fly and maintain growing airline fleets, Tinseth said.

While the longer-term outlook for the industry is still vibrant, Boeing has a lot of work to do to restore confidence after crashes of its 737 Max jets in 2018 and 2019 led regulators to ground the aircraft, he acknowledged.

The only way you build trust is one step at a time, one action at a time, and that's what we're going to try to do as a company, he said.
'Switch of all lights in your homes for 9 minutes at 9 PM on April 5': PM Modi's appeal to India in video message
Posted on 3rd April 2020
Prime Minister Narendra Modi on Friday addressed the nation through a video message, in which he appealed to the citizens of India to come together to defeat the threat of the coronavirus disease (COVID-19) crisis, that is spreading like wildfire across the nation.

In a unique proposition, the Prime Minister asked every citizen to switch off all lights at their residences on April 5 at 9 PM for nine minutes and instead light a candle, a 'Diya', or their mobile's flashlights to mark India's fight against coronavirus.
---
Tablighi Jamaat patients making lewd gestures at nurses, roaming nude in hospital: Ghaziabad CMO writes to police
Posted on 3rd April 2020
Hours after Delhi government wrote to capital's police commissioner seeking deployment of adequate police force at the quarantine centres and hospital where people who attended the Tablighi Jamaat event in Nizamuddin Markaz have been kept, adjoining Ghaziabad's Chief Medical Officer (CMO) has written to the local police saying that the Jammat attendees have been roaming nude inside the MMG district hospital and making lewd gestures and remarks at the nurses.

In the letter, the CMO said that the inmates who have been put under observation are misbehaving with the hospital staff.
---
960 foreigners linked to Tablighi Jamaat blacklisted, visas cancelled
Posted on 3rd April 2020
Taking stringent action against the Tablighi Jamaat, Nizamuddin, the Centre on Thursday blacklisted 960 foreigners and cancelled their tourist visas after over their involvement in Jamaat activities. The government also said that necessary legal action will be taken against them.

Under the directions of Union Home Minister, Shri Amit Shah, the Ministry of Home Affairs (MHA) has blacklisted 960 foreigners, present in India on tourist visas, for their involvement in Tablighi Jamaat activities, the Ministry of Home Affairs said in an official statement.
---
British Airways to lay off 28,000 employees, 60% of its workforce
Posted on 16th March 2020
The United Kingdom's flagship airline British Airways (BA) will temporarily lay off 28,000 employees, which is a staggering 60% of its entire workforce, news agency PTI reported. The move comes amid the coronavirus disease (COVID-19) crisis which is spreading like wildfire across the world and paralysing the airline sector, among several others.

The airline, which has grounded most of its fleet due to the coronavirus, has been locked in talks with unions for more than a week.
---
Coronavirus: Total confirmed COVID-19 cases cross 10 lakh worldwide; more than 50,000 dead
Posted on 3rd April 2020
The number of 'confirmed' coronavirus disease (COVID-19) cases in the world crossed 10 lakh around late Thursday night, with the Coronavirus Resource Center at the John Hopkins University putting the total number of confirmed cases worldwide at 1,014,673 on Friday at 7 AM.

It is worth noting that it just took a little over 24 hours for the number of global cases to jump from nine lakh to 10 lakh.
---
Be the first person to write a business review for Coronavirus casts chill over aviation outlook despite Asian growth