Delhi election results: Kejriwal leading, his deputy Sisodia trailing
Posted on 11th February 2020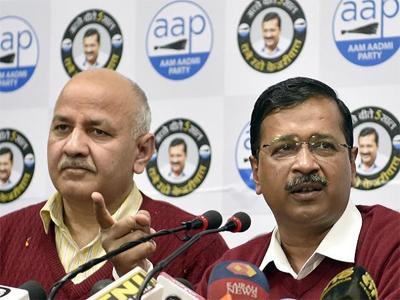 Delhi Chief Minister Arvind Kejriwal is leading in his New Delhi constituency, while his deputy Manish Sisodia is trailing behind BJP candidate Ravinder Singh Negi.

According to poll trends by the Election Commission, the chief minister is leading by over 6,300 votes while Sisodia is trailing by 754 votes from Patparganj constituency.

Transport Minister Kailash Gahlot is leading by 1,115 votes from Najafgarh constituency and BJP's Ajeet Singh Kharkhari is leading.

Health Minister Satyendar Jain is leading by 309 votes in Shakarpur constituency and BJP's S C Vats was second.

Labour Minister Gopal Rai and Food and Civil Supplies Minister Imran Hussain are leading from Babarpur and Ballimaran constituencies respectively.

According to the EC website, the ruling Aam Aadmi Party (AAP) is leading in 57 seats, while the BJP is ahead in 13.

In the 2015 assembly elections, the AAP had registered a thumping victory by winning 67 seats in the 70-member Delhi Assembly.
'Switch of all lights in your homes for 9 minutes at 9 PM on April 5': PM Modi's appeal to India in video message
Posted on 3rd April 2020
Prime Minister Narendra Modi on Friday addressed the nation through a video message, in which he appealed to the citizens of India to come together to defeat the threat of the coronavirus disease (COVID-19) crisis, that is spreading like wildfire across the nation.

In a unique proposition, the Prime Minister asked every citizen to switch off all lights at their residences on April 5 at 9 PM for nine minutes and instead light a candle, a 'Diya', or their mobile's flashlights to mark India's fight against coronavirus.
---
Tablighi Jamaat patients making lewd gestures at nurses, roaming nude in hospital: Ghaziabad CMO writes to police
Posted on 3rd April 2020
Hours after Delhi government wrote to capital's police commissioner seeking deployment of adequate police force at the quarantine centres and hospital where people who attended the Tablighi Jamaat event in Nizamuddin Markaz have been kept, adjoining Ghaziabad's Chief Medical Officer (CMO) has written to the local police saying that the Jammat attendees have been roaming nude inside the MMG district hospital and making lewd gestures and remarks at the nurses.

In the letter, the CMO said that the inmates who have been put under observation are misbehaving with the hospital staff.
---
960 foreigners linked to Tablighi Jamaat blacklisted, visas cancelled
Posted on 3rd April 2020
Taking stringent action against the Tablighi Jamaat, Nizamuddin, the Centre on Thursday blacklisted 960 foreigners and cancelled their tourist visas after over their involvement in Jamaat activities. The government also said that necessary legal action will be taken against them.

Under the directions of Union Home Minister, Shri Amit Shah, the Ministry of Home Affairs (MHA) has blacklisted 960 foreigners, present in India on tourist visas, for their involvement in Tablighi Jamaat activities, the Ministry of Home Affairs said in an official statement.
---
British Airways to lay off 28,000 employees, 60% of its workforce
Posted on 16th March 2020
The United Kingdom's flagship airline British Airways (BA) will temporarily lay off 28,000 employees, which is a staggering 60% of its entire workforce, news agency PTI reported. The move comes amid the coronavirus disease (COVID-19) crisis which is spreading like wildfire across the world and paralysing the airline sector, among several others.

The airline, which has grounded most of its fleet due to the coronavirus, has been locked in talks with unions for more than a week.
---
Coronavirus: Total confirmed COVID-19 cases cross 10 lakh worldwide; more than 50,000 dead
Posted on 3rd April 2020
The number of 'confirmed' coronavirus disease (COVID-19) cases in the world crossed 10 lakh around late Thursday night, with the Coronavirus Resource Center at the John Hopkins University putting the total number of confirmed cases worldwide at 1,014,673 on Friday at 7 AM.

It is worth noting that it just took a little over 24 hours for the number of global cases to jump from nine lakh to 10 lakh.
---
Be the first person to write a business review for Delhi election results: Kejriwal leading, his deputy Sisodia trailing